A great party night with the legendary JAYDEE, major K, Jana Vitiligo, Filip DP and Noski. Yummy 3-course pre-party buffet is optional.
About this event
After our successful run at the start of August 2021, we're returning to Grand Café Capital for another Flashing Fridays. Beats & Bites, but Clubbing as well, as Club Capital will be open too. So get on your dancing shoes, as dancing is gonna be allowed.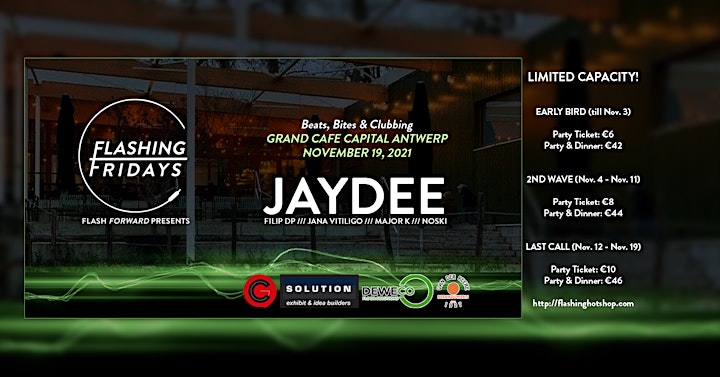 Organizer of Flashing Fridays with JAYDEE
Flash Forward Presents is two things.
First off it is a party concept derived from major K's podcast series Flash Forward with major K.
The podcast contains tech house, (edgy) house, future house, melodic techno and (just because he can) some drum 'n' bass too.
It first aired early 2014.
Second it has become a record label in May 2018, aiming to put out the greatest tracks of said genres to an as large audience as possible.
Heralding from Belgium, easily one of the top countries for dance music (hello, Tomorrowland).