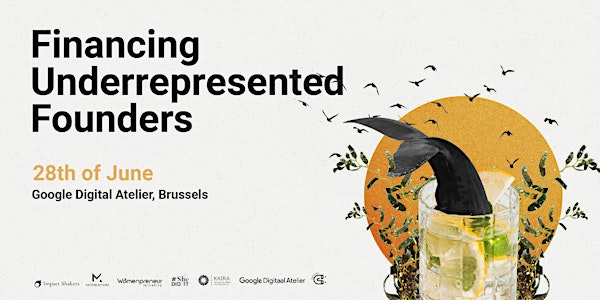 Financing Underrepresented Founders
How can we finance underrepresented founders best?
When and where
Location
Google Digital Atelier 10 Kantersteen #12 1000 Brussel Belgium
About this event
We all know how little venture capital money goes to women and diverse founders, but what can we do to finance underrepresented founders best AND fast?
At this event, two panels will dive into the question of how to best finance underrepresented founders. The first panel will share views from the entrepreneurs themselves and the second will share those of ecosystem builders and investors.
We'll finish with some interactions with the audience and networking afterward.
Timing:
18h Doors open
18h20 Intro Yonca & Tino
18h45 Panel 1 - Founders
19h15 Panel 2 - supporters
19h45 Networking
Opening by Tino Chibebe
Tino is the author of 'The Black Opportunity' about the intersection of entrepreneurship, venture capital, and Afro-European participation in Belgium. He is currently a Program Associate at Impact Shakers and a board member at #Shedidit and IOM.
Founders Panel
Babusi Nyoni, Founder at Sila Health
Babusi is a tech entrepreneur working between Amsterdam, Nairobi and Bulawayo. He works in the fields of emerging technology and big data innovation with a particular focus on developing sustainable solutions for the global South.
Leïla Maidane, Founder at BeGreator
Leïla is a social entrepreneur passionate about ethical technology and its use to empower talents to find their place in the labour market. After some years in consulting where she implemented digital transformation projects for large organizations, she decided to dedicate her career to support her passion and founded Femmes Fières in 2017 as well as Begreator, her latest tech startup.
Lise Vermeersch, Founder at Ecotarian
Lise is the founder of Ecoterian and believes that we can save our planet if we put our minds together. As a young, female engineer she is looking forward to contribute to making this happen.
Hadiel Holail Mohamed, Founder at Kairafund
Ecosystem Builders & Investors Panel
Yonca Braeckman, Founder & CEO at Impact Shakers
Yonca Braeckman is the founder & CEO of Impact Shakers, a global impact ecosystem tackling complex societal challenges through inclusive entrepreneurship. She is a mission-driven entrepreneur and investor in underrepresented founders.
Wendy Agyin, Projectmanager at #Shedidit
Wendy Agyin is a female entrepreneurship and natural hair enthusiast. She is a business coach at #SheDIDIT and is the co-founder of Gold Butter. A startup focused on creating natural hair products for women with afro and curly hair.
Sana Afouaiz, Founder & CEO at Womenpreneur-Initiative
In 2016, she established the Womenpreneur Initiative that aims to advance women's place in the entrepreneurial scene, technology, innovation & society. Since its establishment, Womenpreneur has trained 16,000 women in Belgium and the MENA region.
Manassé Massuama, Founder at Momentum
Manassé is the founder of Momentum, a Business Consulting Consulting in Belgium with a focus on African diaspora businesses operating in Europe and the African continent. Its vision is to study and Expose the potential of the African business market to different stakeholders.
Who should join the event?
Anyone interested in learning how we can build a more inclusive entrepreneurial ecosystem.
Entrepreneurs, ecosystem builders & investors.
About the organisers:
Impact Shakers tackles complex societal and environmental challenges through inclusive entrepreneurship. We are a global impact ecosystem that connects, develops and invests.
Momentum is a consulting firm that focuses on the Afrocentric business community. We focus our consulting on Afro founders and businesses with a data driven approach.
What started with a program of 10 women has grown to over 16,000 women across the world, connecting the concerns, dreams, hopes, and talents of women worldwide. Noting the marked similarities between the challenges facing women in Belgium, the rest of Europe, and the Middle East, Womenprenur works to create bridges between Europe and the MENA region to lift more women out of poverty and economic instability through opportunities to pursue careers in tech and entrepreneurship.
#SheDIDIT is the number one Belgian platform where diversity meets womenpreneurship. They provide individual business coaching, group programs for youngsters and a lively community for female entrepreneurs with migration backgrounds.