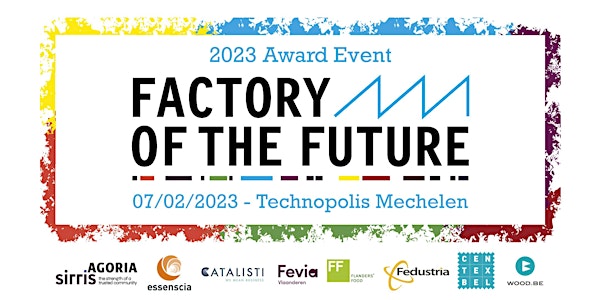 Factory of the Future Award Event 2023
Ontdek de fabriek van de toekomst 2023!
When and where
Location
Technopolis 1 Technologielaan 2800 Mechelen Belgium
About this event
Naar jaarlijkse gewoonte zullen in 2023 opnieuw de "Factory of the Future Awards" uitgereikt worden. Dit initiatief van Agoria & Sirris en de industriefederaties essenscia (chemie en life sciences), Fedustria (textiel, hout en meubel) en Fevia Vlaanderen (voeding), in samenwerking met innovatieclusters Catalisti, Centexbel, Wood.be en Flanders' FOOD, zet de meest vooruitstrevende productiebedrijven in Vlaanderen in de kijker.
Benieuwd welke maakbedrijven de felbegeerde titel van "Factory of the Future" voor de komende drie jaar in de wacht slepen? U komt het te weten op 7 februari, tijdens de officiële prijsuitreiking in Technopolis, in aanwezigheid van Vlaams minister van Economie, Innovatie, Werk, Sociale Economie en Landbouw Jo Brouns.
Schrijf u nu alvast in!
Programma
16.00 uur: Introductie met Vlaams Minister Jo Brouns
16.20 uur: Bekendmaking van de winnaars van 2023
16.40 uur: Factories of the Future aan het woord - Hoe blijf je als maakbedrijf futureproof?
17.00 uur: Keynote: Kansen voor de industrie in een verandering van tijdperk , Peter De Keyzer
17.30 uur: Netwerkmoment: ontmoet de Factories of the Future
Schrijf je nu in, want de plaatsen zijn beperkt.
Dit evenement is gratis en wordt aangeboden door Agoria & Sirris, essenscia, Catalisti, Fevia, Flanders' Food, Fedustria, Centexbel en Wood.be. Er zijn echter kosten verbonden aan het organiseren van een evenement. Als je je hebt ingeschreven en je kunt helaas niet aanwezig zijn, is het een kleine moeite om ons te verwittigen, maar het zal zeer gewaardeerd worden zodat we ons kunnen organiseren.