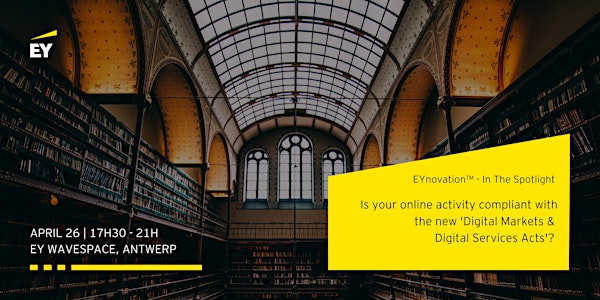 EYnovation™ In The Spotlight | Digital Markets & Digital Services Acts
An essential session for every company that has, or professionally uses, online activities for its business.
Date and time
Wednesday, April 26 · 5:30 - 9pm CEST
Location
EY wavespace Borsbeeksebrug 26 2600 Berchem Belgium
About this event
3 hours 30 minutes

Mobile eTicket
What's the impact of the new Digital Markets & Digital Services Acts on your online activities?
Since November 2022, the new EU Digital Markets & Digital Services Acts have entered into force. The obligations resulting from these legislations will entail a commercial (r)evolution for every entrepreneur with online activities, i.e.:
Digital Markets Act (DMA): Far-reaching obligations for 'big tech' companies or gatekeepers (google, apple, facebook, amazon, etc.) to create a level playing field for business users of the big tech platforms, e.g. access of business users to marketing data, software and hardware of the big techs (NFC-chip), transparency rules for online search engines, prohibition of forcing the lowest price for goods and services on the platforms of gatekeepers, etc.;
Digital Services Act (DSA): Far-reaching obligations for big and small intermediary services (e.g. online marketplaces, search engines, social media, I/P/SaaS cloud services, but also mere conduit and caching services such as Internet Service Providers, Wi-Fi hotspots, VOIP, etc.), updated liability regimes, and verification obligations on illegal content. These obligations will furthermore facilitate and encourage cross border business for smaller companies across the EU by eliminating fragmented legislation and enable these companies to tackle illegal goods provided by other suppliers, etc.
Join us on Wednesday 26th of April to explore the effects of these new EU instruments with our EY Law expert Pieter-Jan Aerts. Get answers to the following questions:
What is the DMA/DSA about and what is the impact on my company?
Am I obligated as of February 2023 to keep account and publish the users of my website?
Which data can I request from big tech players, e.g. in order to optimize my marketing strategy?
Do I need to offer similar prices on my website as those advertised on the gatekeepers' platforms?
Can I be locked-in on different gatekeeper services?
What to do in case there is illegal third party content/goods/services on my platform? I am liable? Is there a duty to monitor the activity on my website?
An ideal Wednesday evening activity combining an essential commercial update with a networking opportunity afterwards.
Speaker:
Agenda:
17:30 – 18:00: Welcome
18:00 – 19:00: Content
19:00 – 19:20: Q&A
19:20 – 21:00: Networking
Note: We charge a small amount to cover organizational costs (incl. catering).
We look forward to welcoming you to our EY wavespace in Antwerp!
See you there,
The EYnovation team
For more information, feel free to contact us: https://thefactory.works/start-ups-scale-ups/