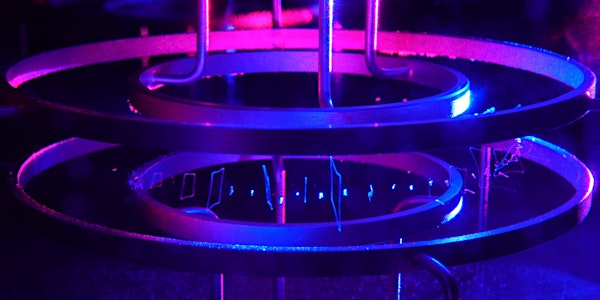 ENTROPIES
We're pleased to invite you to ENTROPIES, a one-day event on October 15th 2020 at Regional STARTS Center Snowball.
When and where
Location
Snowball 104 Evolis 8530 Harelbeke Belgium
About this event
37 years ago, Frank Popper and Marie-Odile Briot curated the exhibition Electra at the Musée National d'Art Moderne in Paris. The expo illustrated how artists reflect on the introduction of electricity and electronics in modern life and how they imagine to deal with the different aspects of the new era of convenience.
After a global pandemic reduced CO2 emissions by only a small percentage, it has become painfully clear that mankind today faces enormous challenges in the fight against climate change and the promotion of alternative energies. The exploration of artists and scientist for ambiguous properties and possibilities of future energies, both real and imagined, is as relevant for the future as are the concrete solutions researchers and innovative companies are working on. 
With a series of compelling lectures, an exhibition and performances, we invite you to the one-day S+T+ARTS event ENTROPIES, to participate in the search for new narratives, paradigm shifts and collaborations to support a clean, sustainable and safe world.
WHAT CAN YOU EXPECT
The one-day event is organised in two parts: an afternoon symposium and evening event. The symposium comprises a series of keynotes and hands-on workshops. The evening event, including talks, performances, art exhibition and a walking dinner, is a public gathering.
PROGRAM SCHEDULE
AFTERNOON LECTURES & WORKSHOPS —15:00 > 17:00
The afternoon program emphasizes how collaborations between artists and researchers can lead to new perspectives, narratives and concrete ideas for a carbon neutral future. It is organised in 3 chapters.
15:00 Welcome from Snowball
Introduction by Alexandra Vanhuyse (co-founder Snowball)
15:10 – 16:00 Chapter 1: Art & Energies explores the historical engagement of artists with the topic of energy until the present.
15:15 – 16:00 An introduction to 'Electra - electricity and electronics in the art of the XXth Century', an exhibition in Paris in 1983 by Prof. Dr. Peter Beyls (artist and media arts historian)
16:00 – 17:00 Chapter 2: Looking past the hype  focuses on how artists engage with advanced science and technology and how this can lead to industrial innovation and societal progress.
16:00 – 16:30 'Sustainable Architectures' by Lionel Devlieger (co-founder Rotor)
16:30 – 17:00 'Crypto Miner Car' by Lucas Evers (head of programme, Waag Society) and Lieven Vervecken (founder Diabatix)
 15:10 – 17:00 Chapter 3: Global Worries Local Fun explores the relation between gameplay, energy and climate action.
15:15 – 17:00 'Wearable Conclusions' workshop by Pieterjan Ginckels (artist)
EVENING EVENT — 17:00 > 23:00
17:00 — 17:30 Introductions 
Welcome by Stefan Grosjean (CEO Smappee and founder Snowball)
Introduction by Ralph Dum (Senior Officer DG Connect, European Commission)
17:30 — 18:30 Official launch SNOWHOOP
Performance by Pieterjan Ginckels (artist) in collaboration with Jean-Marc Mwema (BC Oostende) and guest players
18:30 — 19:00 Welcome reception
19:00 — 20:00 Towards the Grand Sustainability Transition: Global Environmental Governance and the role of visioning
In his talk, Prof. Dr. Philipp Pattberg will argue that substantial and necessary steps towards a broad sustainability transition have already been achieved. However, a number of obstacles remain. Drawing on his experience as director of the Amsterdam Sustainability Institute at VU Amsterdam (NL) and previous collaborations with artists, he will explain how inter- and transdisciplinarity can help achieve this visioning process.
20:00 — 23:00 Walking dinner / exhibition / pitches / performances
Pitch I — Quantasonic Presentation by Prof. Dr. Hugo Thienpont (Vice Rector Innovation and Industrial Relations / Head of B-PHOT, VUB) and Voldemārs Johansons (artist)
Pitch II — Crypto Miner Car Presentation by Lucas Evers (head of programme Waag Society) and Lieven Vervecken (CEO Diabatix)   
Pitch III — Hilbert Hotel Presentation by Evelina Domnitch and Dmitry Gelfland (artist duo)
Performance — SNOWHOOP by Pieterjan Ginckels (artist) in collaboration with Jean-Marc Mwema (BC Oostende) and guest players
PRACTICAL INFORMATION
When: Thursday October 15th 2020, 15:00 – 23:00 h
Venue: Snowball, Evolis 104, 8530 Harelbeke (parking available)
Contact: foundation@gluon.be
* Your safety and health is of paramount importance, so we closely follow the guidelines of the government and experts regarding COVID-19. To ensure the well-being of everyone attending the event, we kindly ask for your understanding that there will be limited places available and the wearing of a face mask will be mandatory.