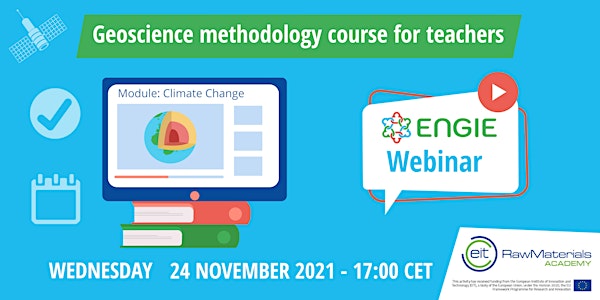 ENGIE Webinar: Geoscience methodology course for teachers
Presentation of the geoscience course for teachers: providing knowledge and ideas on how to teach geoscience in an engaging way.
About this event
On 24 November 2021, the ENGIE project is organising a webinar to present the Geoscience Methodology Course for Teachers. The webinar is scheduled for 17:00 – 18:00 CET (Brussels time).
Earth science or geoscience studies the structure, composition, evolution and physical and chemical properties of the Earth. Understanding these phenomena is crucial to maintaining life on our planet. Geoscience is key to securing the resources which are essential for society: energy, minerals, water and food. Even though it is vital for our life, geoscience is not a core subject in public education. However, if young people are introduced to the Earth's processes and the human effect on our planet at an early age, they will develop critical and responsible thinking when they become adults.
Within the framework of the ENGIE project, an online course for teachers in the areas of geoscience and pedagogy has been developed. With a special emphasis on gender, the course offers free and comprehensive resources to teach geoscience in an attractive way, with the ultimate goal of raising the interest of secondary school students in related topics. The course is divided into six modules: climate change, geothermal energy, mineral raw materials, natural hazards, teaching methods for geoscience and gender aspects of teaching geosciences.
The ENGIE webinar will present an overview of the geoscience methodology course for teachers, including its approach and content. ENGIE project coordinator, Éva Hartai, will be the chair of the session. Contributors to the course will provide a talk on the lessons they developed.
The structure of the webinar will be as follows:
Introduction to the Geoscience Methodology Course for Teachers (Éva Hartai)
Demonstration of the platform
Short overview of specific lessons by contributors:  Volcanic hazards (Paraskevi V. Nomikou, University of Athens), Space resources: mining in the future (Kathryn Hadler, Imperial College London) and IGEO - an attractive way of geoscience education (Roberto Greco, University of Campinas in Brazil)
Q&A Session & Closure (Éva Hartai)