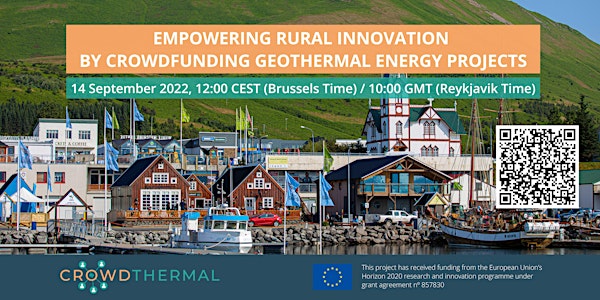 Empowering rural innovation by crowdfunding geothermal energy projects
Shedding light on the interplay between community commitment, crowdfunding, rural innovation and geothermal development
About this event
The CROWDTHERMAL project aims at empowering the European public to participate directly in developing geothermal projects with the help of alternative financing schemes and social engagement tools. The Icelandic CROWDTHERMAL partners Eimur and GEORG are hosting a conference on 14 September 2022 in Húsavík (Iceland), 12:00 - 15:00 CEST (Brussels Time) / 10:00 - 13:00 GMT (Reykjavik Time). The conference will be streamed and openly accessible to those who register.
In Iceland, Eimur, which is a member of the CROWDTHERMAL consortium, has been developing a concept for a community greenhouse in Húsavík. As a result of a social engagement process in Húsavík, the concept is taking shape in a specific part of the town.
The conference will touch upon topics relevant for the CROWDTHERMAL Icelandic case study, where rural innovation is an essential element in addition to the core social and financial elements that have been developed in the CROWDTHERMAL project. Icelandic speakers and international guests will help us to shed light on the interplay between community commitment, crowdfunding, rural innovation and geothermal development.
Agenda and more information
Please consult the programme of the event and other relevant information at this link.
Event privacy policy
Data processing notice
The organiser of this event (CROWDTHERMAL project) is collecting the data you have provided for the registration to the event 'Empowering rural innovation by crowdfunding geothermal energy projects' on the 14th of September 2022. Your personal data are processed in accordance with the General Data Protection Regulation (EU) 2016/679.
The following personal data are collected: email address, first name, last name, job title and name of your company or organisation. In the registration form, we also ask attendees if they would like to subscribe to the CROWDTHERMAL mailing list.
The recipients of your data will be the staff of Eimur and the European Federation of Geologists (EFG) in charge of the event organisation. Your data will not be shared with third parties and will not be used for other purposes than providing access to the event and informing interested persons about follow-up activities.
Your data will be kept for a maximum period of three months after the end of the event. Data will be automatically deleted at the end of this period.
You have the right to access your personal data and the right to correct any inaccurate or incomplete personal data. If you have any queries concerning the processing of your personal data, you may address them to ottoel_at_eimur.is.
Notice of filming, photography and audio recording
The event will be recorded