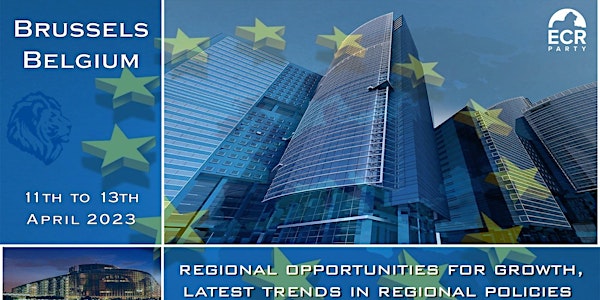 ECR Party: Regional Opportunities for Growth and Working the Cohesion Fund
Understand regional opportunities for growth, the latest trends in regional policies and how to work the cohesion fund.
By ECR Party - European Conservatives and Reformists
Date and time
Tue, 11 Apr 2023 19:00 - Thu, 13 Apr 2023 22:00 CEST
Location
European Parliament 60 Rue Wiertz 1047 Bruxelles Belgium
Refund Policy
Contact the organiser to request a refund.
Eventbrite's fee is nonrefundable.
About this event
2 days 3 hours

Mobile eTicket
ENG
Regional opportunities for growth, latest trends in regional policies and the functioning of the Cohesion Fund.
This is an event organised and coordinated by the ECR Party.
From Tuesday 11 April to Thursday 13 April 2023, in Brussels, Belgium (participation fee €400).
Invitation for local administrators.
The event will include opportunities, expertise and latest trends in EU regional policies and the Cohesion Fund.
*The participation fee is 400€ and includes:
- Return flights*.
- 2 nights hotel accommodation including breakfast
- Access to the conference
- Our networking dinner
The event will be interpreted in Italian, English, Spanish and Polish.
Information about our agenda and speakers coming soon.
*If the price of flights exceeds 400€, we will ask for an extra 50€ for flights up to 600€.
IT
Opportunità regionali di crescita, ultime tendenze nelle politiche regionali e funzionamento del Fondo di coesione.
Questo è un evento organizzato e coordinato dal partito ECR.
Da martedì 11 aprile a giovedì 13 aprile 2023, Bruxelles, Belgio (quota di partecipazione 400,00* tutto compreso).
Invito per gli amministratori locali.
L'evento comprenderà l'opportunità, know-how e ultime tendenze nelle politiche regionali dell'UE e nel Fondo di coesione.
*La quota di partecipazione è di 400€ e comprende:
- Voli di andata e ritorno*
- 2 notti Camera d'albergo Colazione incl. (camera singola)
- Accesso alla Conferenza
- Cena di networking
Sarò disponibile interpretazione in italiano, inglese, spagnolo e polacco.
Maggiori informazioni sulla agenda e sui relatori nei giorni a seguire.
*Se il prezzo dei voli supera i 400€, sarà richiesto un supplemento di 50€ per voli fino a 600€.
PL
Regionalne możliwości wzrostu, najnowsze trendy w polityce regionalnej oraz funkcjonowanie Funduszu Spójności.
Jest to wydarzenie organizowane i koordynowane przez Partię ECR.
Wtorek 11 kwietnia - czwartek 13 kwietnia 2023 r., Bruksela, Belgia (opłata za udział 400,00* all inclusive).
Zaproszenie dla administratorów
W ramach wydarzenia przedstawione zostaną możliwości, know-how i najnowsze trendy w zakresie polityki regionalnej UE i Funduszu Spójności.*Opłata za udział all inclusive wynosi 400 euro (pokój jednoosobowy). Poniżej znajduje się link do rejestracji:
https://www.eventbrite.be/e/ecr-party-talkunderstanding-regional-policy-and-working-thecohesion-fund-tickets-578753997787
Ta standardowa opłata za uczestnictwo obejmuje
- Loty w obie strony*
- 2 noce w hotelu Śniadanie w cenie
- Dostęp do konferencji
- Kolację sieciową
Więcej informacji na temat naszej agendy i prelegentów w przyszłości.
*Jeśli cena przelotów przekracza 400€, doliczamy 50€ dopłaty za przeloty do 600€.
ES
Oportunidades regionales para el crecimiento, últimas tendencias en políticas regionales y funcionamiento del Fondo de Cohesión.
Se trata de un acto organizado y coordinado por el Partido ECR.
Del martes 11 de abril al jueves 13 de abril de 2023, en Bruselas, Bélgica (cuota de participación 400€).
Invitación para administradores locales.
El evento incluirá oportunidades, conocimientos técnicos y últimas tendencias en las políticas regionales de la UE y el Fondo de Cohesión.
*La cuota de participación es de 400 € e incluye:
- Vuelos de ida y vuelta*
- 2 noches de hotel con desayuno incluido
- Acceso a la conferencia
- Nuestra cena de networking
El evento contará con interpretación en italiano, inglés, español y polaco.
Información sobre nuestra agenda y ponentes próximamente.
*Si el precio de los vuelos supera los 400€, pediremos el abono de 50€ extra por vuelos de hasta 600€.