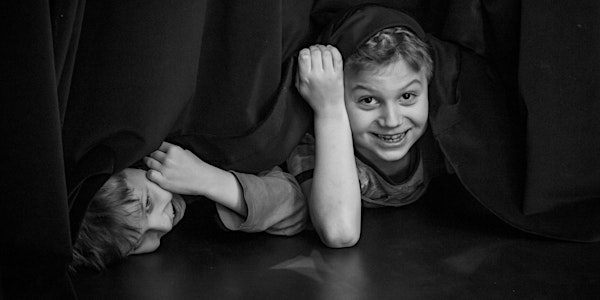 Curtain Up! The Kids are Back
International Children's and Youth Theatre Digital Conference moved to 5 March 2023. Organised by AITA/IATA asbl.
About this event
L'explication en français se trouve ci-dessous.
La descripción en español se encuentra a continuación.
[EN] The programme for this conference can be found here.
Curtain Up! The Kids Are Back is a one-day Zoom conference, taking a look at children's and youth theatre groups during recent years and asks the following questions:
What have we learnt from COVID and other crises?
What more can be done?
How do we give kids a voice?
AITA/IATA has assembled speakers from across the globe to talk about their own practices, research and findings concerning children's and youth theatre. As such, the conference offers talks in English, French and Spanish. For those who cannot follow the conference on the day itself, AITA/IATA will grant access to recordings of the conference to those who have purchased tickets for a week after 5 November. Translation happens simultaneously, and where it is not possible, the recordings will have subtitles in the three languages.
During the lunch break, three workshops, one of each in English, French and Spanish, are available for youth interested in theatre. Participating in the workshop is free, but you will have to register through eventbrite with a free ticket.
If you are not an AITA/IATA Member, or a member of an AITA/IATA National Centre, and you join AITA/IATA, your conference fee will be waived. Contact secretariat@aitaiata.net for more information.
What is AITA/IATA?
AITA/IATA, the International Amateur Theatre Association, unites and links amateur theatre groups, community theatres and organisations actively working for theatre amateurs and individuals throughout the world who love creating and making theatre in their free time. People and organisations we link with, work with and for children, with young people and with adults. AITA/IATA brings people together by offering meeting places, so that they can share knowledge and practice within the field of theatre in order to deepen understanding, develop practice, create new opportunities and strengthen the global amateur theatre sector.
[FR] Le programme de cette conférence peut être consulté ici.
Rideau levé ! Les enfants sont de retour est une conférence Zoom d'une journée qui jette un regard sur les troupes de théâtre pour enfants et pour jeunes au cours des dernières années et pose les questions suivantes :
Qu'avons-nous appris du COVID et autres crises ?
Que peut-on faire de plus ?
Comment donner une voix aux enfants ?
L'AITA/IATA a réuni des intervenants du monde entier pour parler de leurs pratiques, de leurs recherches et de leurs découvertes en matière de théâtre pour l'enfance et la jeunesse. Ainsi, la conférence propose des interventions en anglais, français et espagnol. Pour ceux qui ne peuvent pas suivre la conférence le jour même, l'AITA/IATA donnera accès aux enregistrements de la conférence à ceux qui ont acheté des billets pour une semaine après le 5 novembre. La traduction se fait simultanément, et lorsque cela n'est pas possible, les enregistrements seront sous-titrés dans les trois langues.
Pendant la pause de midi, trois ateliers, un de chaque en anglais, français et espagnol, sont proposés aux jeunes intéressés par le théâtre. La participation à un atelier est gratuite, mais vous devrez vous inscrire via eventbrite avec un billet gratuit.
Si vous n'êtes pas membre de l'AITA/IATA, ou membre d'un centre national de l'AITA/IATA, et que vous adhérez à l'AITA/IATA, vos frais de conférence seront supprimés. Contactez secretariat@aitaiata.net pour plus d'informations.
Qu'est-ce que l'AITA/IATA ?
L'AITA/IATA (l'Association Internationale de Théatre Amateur) unit et relie les groupes de théâtre amateur, les théâtres communautaires et les organisations qui travaillent activement pour les amateurs de théâtre et les individus du monde entier qui aiment créer et faire du théâtre pendant leur temps libre. Les personnes et les organisations avec lesquelles nous établissons des liens travaillent avec et pour les enfants, les jeunes et les adultes. L'AITA/IATA rassemble les gens en leur offrant des lieux de rencontre, afin qu'ils puissent partager leurs connaissances et leurs pratiques dans le domaine du théâtre pour approfondir la compréhension, développer la pratique, créer de nouvelles opportunités et renforcer le secteur mondial du théâtre amateur.
[ES] El programa de esta conferencia puede consultarse aquí.
¡Arriba el telón! Los niños han vuelto, es una conferencia Zoom de un día, que echa un vistazo a los grupos de teatro infantil y juvenil durante los últimos años y hace las siguientes preguntas:
¿Qué hemos aprendido de la COVID y otras crisis?
¿Qué más se puede hacer?
¿Cómo damos voz a los niños?
La AITA/IATA ha reunido a ponentes de todo el mundo para que hablen de sus propias prácticas, investigaciones y descubrimientos en materia de teatro infantil y juvenil. Por ello, la conferencia ofrece charlas en inglés, francés y español. Para quienes no puedan seguir la conferencia el mismo día, AITA/IATA dará acceso a las grabaciones de la conferencia a quienes hayan comprado entradas para una semana después del 5 de noviembre. La traducción se realiza simultáneamente y, cuando no sea posible, las grabaciones tendrán subtítulos en los tres idiomas.
Durante la pausa para el almuerzo, se ofrecen tres talleres, uno de cada uno en inglés, francés y español, para los jóvenes interesados en el teatro. Participar en el taller es gratis, pero habrá que inscribirse a través de eventbrite con una entrada gratuita.
Si usted no es miembro de AITA/IATA, o miembro de un Centro Nacional de AITA/IATA, y se afilia a AITA/IATA, no tendrá que pagar la cuota de la conferencia. Contacte con secretariat@aitaiata.net para más información.
¿Qué es AITA/IATA?
La AITA/IATA (Asociación Internacional de Teatro Amateur) une y vincula a los grupos de teatro amateur, a los teatros comunitarios y a las organizaciones que trabajan activamente para amantes del teatro y a los individuos de todo el mundo que aman crear y hacer teatro en su tiempo libre. Las personas y organizaciones con las que nos vinculamos trabajan con y para los niños, los jóvenes y los adultos. La AITA/IATA reúne a la gente ofreciéndoles lugares de encuentro, para que puedan compartir conocimientos y prácticas dentro del campo del teatro con el fin de profundizar en la comprensión, desarrollar la práctica, crear nuevas oportunidades y fortalecer el sector del teatro amateur mundial.