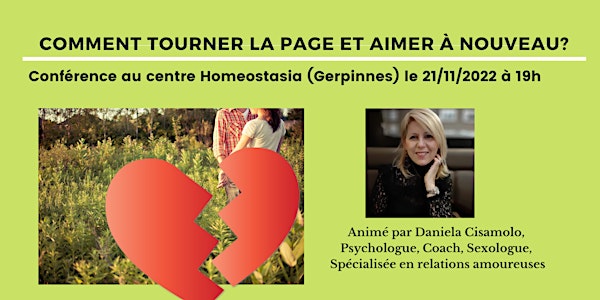 Comment tourner la page de son passé, de son ex et aimer à nouveau?
Votre ex et vous, La rupture amoureuse, comment tourner la page?
When and where
Location
Homeostasia 79 Rue du Bultia 6280 Gerpinnes Belgium
Refund Policy
Contact the organizer to request a refund.
Eventbrite's fee is nonrefundable.
About this event
𝐂𝐨𝐦𝐦𝐞𝐧𝐭 𝐭𝐨𝐮𝐫𝐧𝐞𝐫 𝐥𝐚 𝐩𝐚𝐠𝐞?
𝐂𝐨𝐦𝐦𝐞𝐧𝐭 𝐬𝐞 𝐫𝐞𝐜𝐨𝐧𝐬𝐭𝐫𝐮𝐢𝐫𝐞 𝐚𝐩𝐫𝐞̀𝐬 𝐮𝐧𝐞 𝐫𝐮𝐩𝐭𝐮𝐫𝐞 𝐚𝐦𝐨𝐮𝐫𝐞𝐮𝐬𝐞?
La rupture amoureuse ca fait mal!
Savez-vous que le stress vécu lors d'une rupture est très haut dans l'échelle de stress des évènements de la vie? 💔 L'estime de soi en prend souvent un coup, les sentiments de perte, d'abandon prédominent, les émotions sont intenses, faire face à tous les changements n'est pas facile!
Comment aller mieux? Comment dire adieu à votre passé et à votre ex définitivement?
𝓛𝓸𝓻𝓼 𝓭𝓮 𝓬𝓮𝓽𝓽𝓮 𝓬𝓸𝓷𝓯𝓮́𝓻𝓮𝓷𝓬𝓮, 𝓿𝓸𝓾𝓼 𝓪𝓵𝓵𝓮𝔃 :
✅ apprendre à identifier les différentes phases du deuil
✅ savoir dans quel phase du deuil vous vous trouvez si vous êtes dans une rupture
✅ comprendre pourquoi cela fait tant souffrir et les liens avec le passé
✅ connaître les grandes clés pour dépasser une rupture amoureuse et se
reconstruire
✅ apprendre à aimer à nouveau
🌟J'ai le plaisir de vous inviter à la deuxième conférence "L'amour dans tous ses debats" 🌟 au centre Homeostasia à Gerpinnes 🌟
Rejoignez-nous lors de cette conférence dès maintenant 👌 !
𝓣𝓪𝓻𝓲𝓯 : 25 €
𝓛𝓲𝓮𝓾 : "Homeostasia, Rue du Bultia, 79, 6280, Gerpinnes.
Inscrivez-vous dans le lien ci-joint dès maintenant 👌 !
𝓘𝓷𝓯𝓸𝓼 𝓭𝓮 𝓬𝓸𝓷𝓽𝓪𝓬𝓽: 𝓓𝓪𝓷𝓲𝓮𝓵𝓪 𝓒𝓲𝓼𝓪𝓶𝓸𝓵𝓸, 𝓰𝓼𝓶 : 0476/89 11 58
Au plaisir de vous retrouver 🤩