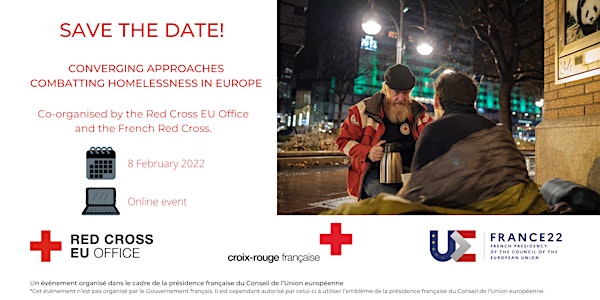 Combatting homelessness in Europe/Lutter contre le sans-abrisme en Europe
[EN-FR] Converging approaches: Combatting Homelessness in Europe / Convergence de Solutions pour lutter contre le Sans-abrisme en Europe
About this event
On the 8th of February, in the context of the French Presidency of the Council of the European Union, the Red Cross EU Office and the French Red Cross will organise the event "Converging approaches: Combatting Homelessness in Europe". The event will bring together National Red Cross Societies from across the EU, stakeholders from the European Commission, the European Parliament and other NGOs, active on the theme of homelessness to facilitate an EU-wide exchange between institutional and field stakeholders.
Find the programme of the conference here.
The conference will be held in English and in French with simultaneous interpretation.
____________________________________________________________________________________________
Le 8 février, dans le Cadre de la Présidence française du Conseil de l'Union Européenne, la Croix Rouge française et le Bureau de la Croix-Rouge UE organisent l'événement "Convergence de Solutions pour lutter contre le Sans-abrisme en Europe". Il réunira les Sociétés Nationales de la Croix-Rouge de toute l'UE, des représentants de haut-niveau des Etats Membres, des parties prenantes de la Commission Européenne et du Parlement européen ainsi que d'autres ONG actives dans la lutte contre le sans-abrisme pour favoriser le dialogue entre acteurs institutionnels et de terrain.
Retrouvez le programme de la conférence ici.
La conférence se tiendra en anglais et en français, avec interprétation simultanée.
Organiser of Combatting homelessness in Europe/Lutter contre le sans-abrisme en Europe