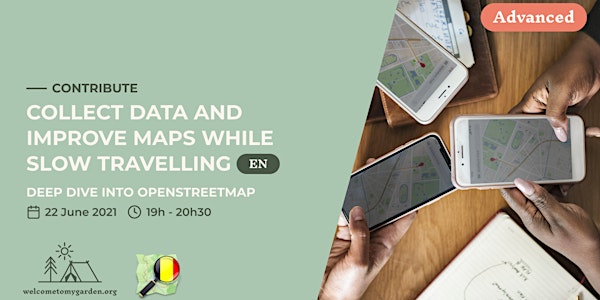 Collect data & improve maps while slow travelling - Deep dive into OSM
Are you crazy about maps? This is the place to be!
When and where
Date and time
Tue, 22 Jun 2021 10:00 - 11:30 PDT
Refund Policy
Contact the organiser to request a refund.
Eventbrite's fee is nonrefundable.
About this event
Most maps, websites and apps used by slow travellers are made with OpenStreetMap, the project that creates and distributes free and open geographic data for the world. It is built by a community of volunteers that contribute and maintain data about roads, trails, cafés, railway stations, and much more, all over the world. OpenStreetMap relies on local knowledge to keep its data and map accurate and up-to-date.
Did you know that… you can also help improve these data and maps? In this workshop, we'll show you how you can do so. It's easy and incredibly interesting!
On Tuesday 22 June, Welcome To My Garden and OpenStreetMap Belgium (the Belgian chapter of OpenStreetMap) are organising a deep dive workshop on how to create, edit and share slow travel information with OpenStreetMap. This event aims to gather all kinds of slow travellers and is absolutely open to everyone who wants to learn more about it.
Part 1: Reminder of the beginner workshop
Welcome to the wonderful world of OpenStreetMap
Short history, introduction to the OSM-be community and the main community guidelines.
How OpenStreetMap works and you can contribute
Presentation of all relevant slow travelling information (drinkable water, picnic tables, waymarked trails, bakeries, supermarkets, small off road trails, cafés, rest benches, ...) in OpenStreetMap
Part 2: We'll dive deeper into
Presentation of projects and tools made by OpenStreetMap Belgium
What tools you can use to contribute
How to use OpenStreetMap data for your slow travels
The possibility to combine data from OpenStreetMap with Wikidata (Wikipedia)
How you can make your collected street images useful
How you can get involved and volunteer for OpenStreetMap Belgium
In short, OpenStreetMap is a really great source of information for slow travellers. And you can help improve it! Come and join us to learn, discuss and contribute to the mapping community.
During the slow travel mini festival, there will be two dedicated workshops on OpenStreetMap:
Introduction session (link to this workshop): for slow travellers who don't know how OpenStreetMap works yet (17/06)
Advanced session (workshop on this page): for slow travellers who have an idea how OpenStreetMap works, but want to dive more into it (22/06)
Of course, it's allowed to attend both sessions. We hope to see you then!
About this workshop:
This event is part of our slow travel mini festival, a series of 8 workshops to prepare your slow travels with the community. The festival is organized by volunteers of Welcome To My Garden. All workshops take place online.
Any specific questions or suggestions? Or want to talk about your ideas or initiatives? That's fantastic! Just drop us a message at team@welcometomygarden.org.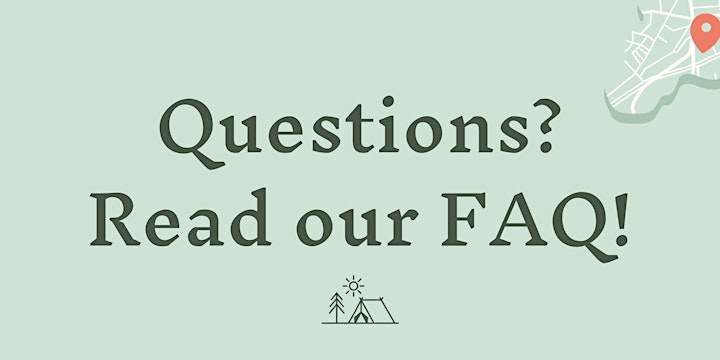 ***FAQ¨***
What is our slow travel mini festival about?
The slow travel mini festival is a series of inspirational and practical workshops organized for and with the Welcome To My Garden community. With Welcome To My Garden we're on a mission to make slow travelling the new normal. We want to empower you to start your slow travel journey: get inspired by others and plan your route. On top of that, we will also show you how you can help improve maps and rethink the public space. And, last but not least, this festival is also a fantastic opportunity to get the Welcome To My Garden community together!
Who is organizing this?
The slow travel mini festival is organized for and with the Welcome To My Garden community.
Why are you asked for a workshop ticket?
First of all, we want to make sure to cover all organisational costs of our festival. All remaining budget and donations will be used for technical improvements of Welcome To My Garden. Although using Welcome To My Garden is free to use and will remain free, the technological infrastructure isn't. In the next few months, we really want to prepare the next steps and improve the Welcome To My Garden platform.
As we did from the beginning, we strive for transparent and open finances. You can check out the WTMG budget and expenses on https://opencollective.com/welcometomygarden.
Where will the remaining budget and donations be used for?
Monthly cost for platform maintenance: keeping Welcome To My Garden online costs €175 per month (during the summer time with a lot of users).
Developing a search function on the map, so that you don't need to keep on searching endlessly on the map.
Developing filters to identify gardens with specific facilities.
Center IP address on the map (the map will be centered on your location).
Add a report button, in case there's a traveller or a host not respecting the rules.
Develop our back-end infrastructure. In short, the back-end is the technical infrastructure that allows us to store our database. We currently use a closed commercial service and the time has come to build our own infrastructure. Open Source is at the core of Welcome To My Garden and this will allow us to welcome more contributors!
Our budget is transparent and open on https://opencollective.com/welcometomygarden.
What if you really want to attend the workshop, but you can't pay the event contribution fee?
The mini festival is an event that anyone can join. That's why we also offer free solidarity tickets. Our free solidarity tickets aim to give individuals with little or no financial resources the possibility to attend the workshops for free. These tickets are reserved for students and unemployed travellers. If there are no more solidarity tickets available, you can sign up for the waiting list.
Click here to apply for a free solidarity ticket.
I'm not a user of Welcome To My Garden - can I participate?
Of course! This festival is for both beginners and experienced slow travellers. You don't need to have a Welcome To My Garden account to participate. Everyone is welcome!
What do I need for the workshop?
You need to have wifi and, if possible, a computer (except for the 1001 ways of slow travelling & the commons workshop where you could use a smartphone to access the talk).
One ticket = one family is okay!
If you're a family or a group of friends under the same roof, you only need to get a ticket. Think about making a donation if you want to support Welcome To My Garden. ;)
Do you love our slow travel mini festival and want to partner up?
Shoot us an email at team@welcometomygarden.org ;)
About the organiser
The festival is a series of 8 online workshops for and with our community. While everyone is busy making plans for this summer, this festival is meant to inspire and grow our community slow travel skills & knowledge. For the workshops, we ask for a small participation fee. There's also the option to make a donation. All donations will be used for the technical improvements of Welcome To My Garden. You'll find the list of technical improvements on our FAQ. We're all about oppeness and so are our finances: https://opencollective.com/welcometomygarden.