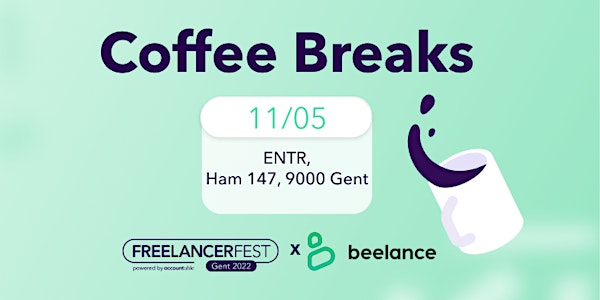 Coffee Breaks
Coffee Breaks Ghent - How to integrate within my client's company as a freelancer ?
When and where
Location
ENTR 147 Ham 9000 Gent Belgium
About this event
Everyone loves coffee breaks. ☕️
This is the perfect time to sit comfortably, with a hot drink and have interesting conversations with people.
If you want to get inspired and have the opportunity to exchange with other freelancers regarding a topic, join us on this coffee break organised by Accountable together with Beelance. 🤝
What topic will be discussed?
We will take this moment to share our experiences about one central subject: "How to integrate my client's company as a freelancer?"
Interested in hearing advice from other freelancers and meeting interesting people?
Book your FREE ticket now and see you on 11/05!
PS: Coffee is on us. 😉 Come sit, connect and relax!

Beelance is a fast-growing and forward-thinking start-up that aims to build the Future of Work. They provide smart care solutions to connect companies and freelancers of the IT & Digital world, with the promise of finding the perfect match. 🤝 As a freelancer, you have FREE access on Beelance to:
• relevant missions that match your skills, location and daily rate preferences 💻
• a Discord to share, exchange and above all collaborate with other freelancers 👾
• personal support to find the right clients 🤝
• an ecosystem of valuable partners 🌏

What is Accountable?
Accountable is the independent's best friend. A simple app that tells you how much taxes you will pay, handles all your tax returns, lets you create invoices and capture expenses, all in a couple of clicks and no more than 3 minutes per day.
The future of work is independent. You know it. We know it.