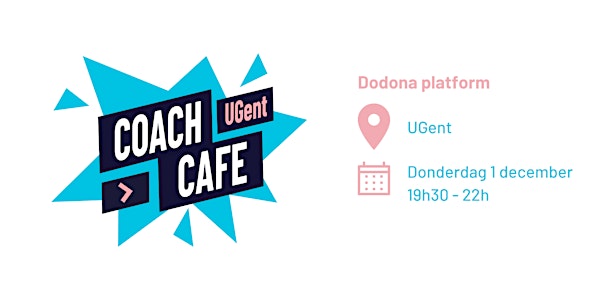 Coach Café UGent: Dodona platform
Het maandelijks Coach Café zal plaatsvinden in Gent.
When and where
Location
Multimediazaal Campus Sterre Campus Sterre, S9, Krijgslaan Gelijkvloers 9000 Gent Belgium
Refund Policy
Contact the organizer to request a refund.
About this event
Tijdens de maandelijkse Coach Cafés gaan we CoderDojo op zoek naar inspirerende praktijken we in onze dojo's kunnen integreren. Dit kunnen interessante technologieën om met je ninja's een uit te proberen, nieuw educatief materiaal dat ontwikkeld werd, uitgewerkte projecten die je zelf eens kunt uitproberen. Als deelnemer kan je trouwens ook zelf eigen materiaal voorstellen, ervaringen te delen, suggesties geven of vragen stellen. De Coach Cafés worden afwisselend online en fysiek georganiseerd.
Voor het Coach Café van December gaan we op bezoek bij het team achter het online leerplatform Dodona. Sinds september 2022 staat het platform immers ook open voor de ninja's en coaches van CoderDojo. Het platform ondersteunt verschillende programmeertalen zoals Python, JavaScript of Java, maar kan bijvoorbeeld ook gebruikt worden om databanken te leren bevragen of opbouwen (SQL) of website te leren maken (HTML & CSS). De kracht van Dodona schuilt in de automatisch feedback die gegeven wordt bij elke ingediende oplossing, en het feit dat je makkelijk kunt opvolgen welke opdrachten de ninja's reeds doorlopen hebben. Tijdens het Coach Café zal je leren hoe je zelf met je ninja's in Dodona aan de slag kunt.
Aansluitend kunnen we ook een kijkje gaan nemen achter de schermen van het Vlaamse Supercomputer Center (VSC). Als deelnemer van het Coach Café krijg je de unieke kans om het datacenter van de UGent te bezoeken, die onder andere de supercomputers van het VSC huisvest. Tijdens de rondleiding geven medewerkers van het High Performance Computing (HPC) team je graag ook wat meer uitleg over supercomputing anno 2022.
Wist je trouwens dat er zowel in team Dodona als het HPC-team verschillende CoderDojo coaches zitten? Als je benieuwd bent wie dat zijn, schrijf je dan nu in voor het Coach Café van December!
Kom je met de auto?
Sommige ingangen van de campus hebben slagbomen maar zullen automatisch opengaan bij het binnen- en buitenrijden. Moest je toch niet meer buiten kunnen rijden worden er jetons voorzien zodat je makkelijk de parking kan verlaten.
Er zijn meerdere opties om tot aan de campus te rijden:
- Oudenaardse Steenweg: via deze ingang moet je naar rechts richting S9
- De Pintelaan: S9 ligt links als je via deze ingang komt
- Galglaan: dit is de hoofdingang. Als je hier binnen komt moet je de hele campus door om tot aan S9 te komen.
Routebschrijving binnen: https://soleway.ugent.be/routes/4407
PROGRAMMA
19h30 - 20h30: Dodona workshop
20h30 - 21h30: rondleiding Datacenter Vlaamse Supercomputer
21h30 - 22h: hapjes, drankjes en babbeltjes