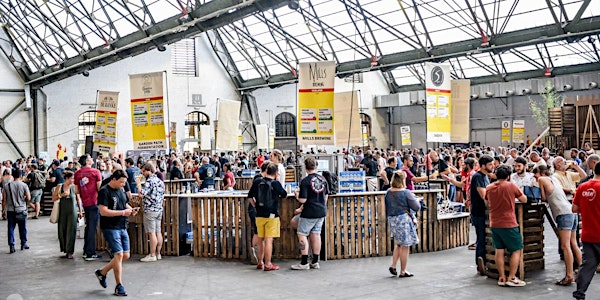 BXLBeerFest 2021
BXLBeerFest is an international craft beer festival (30 breweries). This year is the 4th edition.
When and where
Location
Tour & Taxis 86C Avenue du Port 1000 Bruxelles Belgium
About this event
--- BXLBeerFest 2021 postponed to 2022 (exact dates to be determined)
Hello everyone,
It is with a heavy heart that we have to announce that BXLBeerFest 2021 is postponed to 2022.
This isn't an easy message for us and we have discussed this thoroughly among ourselves, but with all the rules and measurements to follow and the uncertainty, we can't organise the festival as we see it, as we intend it.
With the decrease of the infection numbers earlier this summer/late spring and the 'GO' given by our government for the organisation of bigger events we eagerly started planning the 2021 edition. We were, and we know you as well, looking forward to a summer where things started to get normal again, where you could go to a beer festival to discover and enjoy some good beers with friends. We were looking forward to washing away an horrible year 2020 and 2021...
Unfortunately the guidelines to follow to organize a Covid-safe event issued by the government are demanding to say the least. Even with a tuned-down edition as we planned, it takes much more effort and almost as much man power as with our normal event. We always aimed to have a low threshold event, available to all, being it in atmosphere and entrance and token prices. Organising a smaller event with as much effort as it would take would be a big financial risk.
The bigger problem however is the recent increase in numbers of infected patients, the rise of the Covid-variants and the idea that the peak has yet to come (end of summer holidays). We're afraid that the government might issue new rules, making it even more difficult to organise BXLBeerFest and making all our efforts so far go in vain. Going all in, consecrating all our time, starting the build-up, investing money in infrastructure, people and location,... without being sure that things won't change by the end of August is too much to bear.
Our sincere apologies. We know this is a let down and we hope we can count on your comprehension and support. This leaves us beaten but not broken, disappointed but not without hope… We'll be back!
--- EXCLUSIVE BEER PACKS
If you bought a 2020 or 2021 Exclusive Beer Pack, it doesn't change anything. The packs will be ready for pickup in Brussels on 21&22 August 2021, as planned. We'll let you know the exact location and schedule in a few days. We remind you that, if you can't come, you always have to possibility to give your ticket to the proxy of your choice.
--- ENTRY TICKETS AND TOKENS
If you bought entry tickets or tokens, they will be transferred automatically to 2022. You don't need to do anything, your tickets will still be valid. When the exact dates of the 2022 edition will be known (as soon as possible), if you can't come, you will have the choice to transfer your ticket to the next edition in 2023, free of charge.
To limit the financial impact for event organisers obliged to postpone their events because of Coronavirus, the Belgian government has set a law that does not oblige event organisers to issue refunds for those postponed events, but to offer ticket transfer (free of charge) to a similar event within 3 years and 2 months. We are a non profit organization, with fixed costs and almost no income for 2 years. Therefore, we hope you can understand that it's not possible for us to issue refunds.
If you have any question, please send an email to info@bxlbeerfest.com
Be safe, stay strong #SanteïBXL
----------------------------------------------------------
BXLBeerFest is an international craft beer festival. This year is the 4th edition. We'll have 30 breweries attending, mostly from Belgium with a couple from abroad. Rest assured that we always keep quality in mind when inviting these breweries. The line up will be a tasty mix of well established breweries and newcomers with a promising future. Only craft honest beers!
The 4th edition of our festival was planned in 2020 but, because of COVID-19, we had to postpone the event to 2021. All entry tickets and tokens, previously bought for BXLBeerFest 2020, have been transfered to BXLBeerFest 2021.
We are hosting the event at Tour&Taxis (Brussels), but not in the big hall as previous years. We will welcome you in Gare Maritime, a brand new building right behind the usual place. The setting will be as fabulous as before, and more even, but as the space is smaller we'll have a limited number of visitors being able to attend the festival.
The sanitary measures, decided by the government, impose that you need a Covid Safe Ticket to be allowed to access the festival ground. This ticket certifies that you are fully vaccinated or that you have a recent negative Covid test.
Refund policy: all tickets are non-refundable.
If you have any question (in general or about your order), please send us an email to info@bxlbeerfest.com
More info: http://www.bxlbeerfest.com
#SanteïBXL #BXLBF21