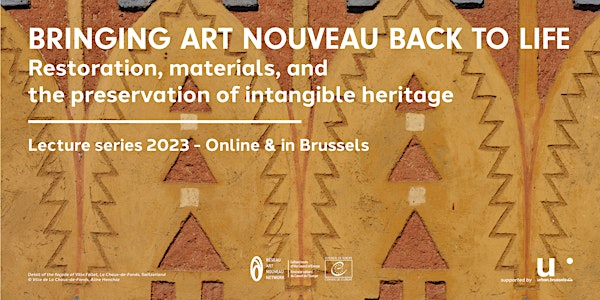 Multiple dates
Bringing Art Nouveau back to life (in person - Brussels)
"Bringing Art Nouveau back to life". Restore materials to conserve intangible heritage. Lecture series 2023 Online and in Brussels!
By Réseau Art Nouveau Network
Date and time
Mon, 15 May 2023 18:30 - Mon, 18 Dec 2023 20:00 CEST
Location
Bruxelles Brussels 1000 Bruxelles Belgium
About this event
The 2023 Réseau Art Nouveau Network lecture series is dedicated to "Restoration". We want to highlight good practices in the restoration of different materials and the solutions adopted that respect and enhance the spirit of the place.
To celebrate the year of Art Nouveau in Brussels, this year the lectures will be held in the Belgian capital, with the possibility of following them online.
You can also follow the lectures online, more information on the virtual event page here
Each conference will be live on RANN's YouTube channel
Programme
15 May 2023 ( French lecture)| Barbara Van der Wee (Architect and Prof. Em of the Leuven University) & Xaveer De Geyter - Projet de rénovation et d'extension du Musée des Beaux-Arts de Tournai
30 May 2023 (French lecture) | Daniela Costa Dornfeld Saldanha (PhD student and master's degree in Architectural History at São Paulo University) - Vila Penteado: la restauration de ses peintures murales Art Nouveau
26 June 2023 (English/French lecture) | Elisabeth Horth (Assistant curator of the Horta Museum) and Allison Michel (Responsible for the collections at the Horta Museum) - L'expérience des chantiers des collections au Musée Horta
4 September 2023 (English/French lecture) | Jordi Bonet (Bsch., Chemistry. Stained glass restorer. J.M. Bonet Vitralls S.) - Stained glass heritage from Casa Condeminas. Dealing with a fragile heritage in private homes & Bénedicte Lacheré (Atelier bL vitraux) - La restauration des vitraux de la Villa Majorelle à Nancy
25 September 2023 (French lecture) | Sylvie Pipoz (Déléguée à la valorisation du patrimoine de la Ville de La Chaux de Fonds) - Une villa à livre ouvert
16 October 2023 (English lecture) | Tjaša Pristov (Conservation-Restoration Advisor at the Institute for the Protection of Cultural Heritage of Slovenia) - Different presentation methods and methodological conservation and restoration approaches for decorative wall paintings of the Art Nouveau period & Tatjana Adamič (Conservator counsellor at the Institute for the Protection of cultural heritage of Slovenia, Regional Office Ljubljana) - Renovation of the former Tivoli Hotel in Ljubljana: analysis, research, renovation, new use
6 November 2023 (English lecture) | David García (Architect at DAWOFFICE) - Casa Vicens
27 November 2023 (English lecture) | Peder Alme (Restorer at Ornamentfabrikken) - The ornaments at Øwregata 13/ Latinskolen, Ålesund Norway. 45 unique ornaments awaiting rescue
18 December 2023 (French lecture) | Pascale Ingelaere (Responsable du Département Patrimoine Mobilier urban.brussels) - Des pierres qui parlent ? Un projet de valorisation des vestiges de l'Hôtel Aubecq de Victor Horta
More info about the lectures: https://www.artnouveau-net.eu/conference/bringing-art-nouveau-back-to-life-restore-materials-to-conserve-intangible-heritage/