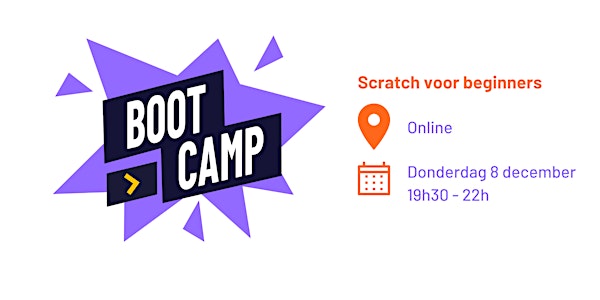 Bootcamp: Scratch voor beginners
BOOTCAMPS #ONLINE > Module scratch Beginners > Donderdag 8 december 2022 19:30h-22.00h
About this event
BOOTCAMPS #ONLINE > Module scratch > donderdag 8 december 2022 19:30h-22.00h
Als CoderDojo coach, is Scratch jouw core tool om kinderen mee te nemen op een magische reis naar creativiteit en computationeel denken.
Wil je starten met coachen? De kinderen beter leren begeleiden in Scratch in jouw Dojo?
Mis dan zeker onze Scratch Beginners track niet. Je moet er zelfs je huis niet voor uit!
Format:
Deze sessie bestaat uit basis concepten om te programmeren, hands-on oefeningen om de technische skills aan te scherpen en geeft aan hoe CoderDojo materiaal te gebruiken en kinderen aan te zetten tot creativiteit.
Voorbereiding:
Je kan op voorhand een Scratch account opzetten als je wil. Echter, je kan ook prima zonder account werken.
Voor wie?
Voor nieuwe CoderDojo Coaches
Annulatie
Plots genomineerd voor een Nobelprijs? Of net beslist om gedurende een jaar virtueel te gaan hiken in Zuid-Amerika? Misschien een last minute (house)party (we hopen het voor u!). No worries, kan allemaal maar moest dat het geval zijn, wees dan cool en cancel uw ticket, zodat andere coaches de kans krijgen zich in te schrijven.
We respect your privacy
CoderDojo is fun en we delen dat graag met de wereld. Tijdens onze activiteiten bestaat de kans dat we foto's nemen die op social media zouden kunnen verschijnen achteraf. Het kan dus zijn dat jij gefotografeerd of gefilmd wordt tijdens 1 van deze activiteiten. We gebruiken deze footage niet op flyers of voor campagnes, zonder je hier eerst om expliciete goedkeuring hebben gevraagd. Als je liever geen foto's van jezelf gebruikt ziet worden, kan je dat aangeven in je registratie. Natuurlijk respecteren we je data. Meer weten hierover? Check dan onze privacy statement op de website.