Politique de remboursements
Pas de remboursements
WOMEN VOICES IN VIRTUAL MEETINGS UPGRADE YOUR ETHICAL MINDSET, BEHAVIOUR AND VOICE
À propos de cet évènement
Remote work has reinforced certain archaisms, such as the place of women at work.
Since remote working, virtual meetings have created new challenges and issues for women. How can we evolve and strengthen the position of women in an equitable and sustainable work environment?
Learn through this webinar how to:
understand the challenges of telework and create new positioning levers
establish a more inclusive meeting agreement
detect unconscious traps in women
learn how to strengthen your presence
be surprised by your inner voice
OUR PROGRAM WILL BE GIVEN IN ENGLISH:
Viviane Kock - Remote & hybrid working expert
Founder of Nest Your Desk
Take care about gender equity in virtual meetings with new agreements & attitudes.
Saskia Ravesloot - Senior gender & human rights expert & lecturer PSIA Sciences Po
Founder of Saraco
Learn new (non)verbal practices of "doing gender"
WHY WOMEN DON'T NEED TO SOUND LIKE A MAN ?
Katrien Van Geystelen - Voice Coach
Founder of Sparklin' voice
Discover your voice with secret practices!
PS: There will be time for networking! Virtual doors will be open 10 min before and after our event!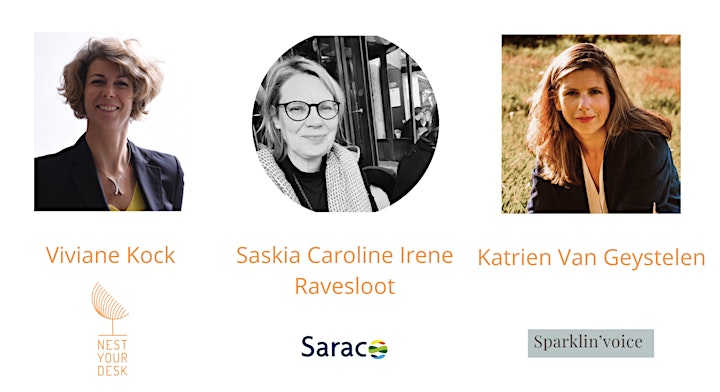 THE ORGANIZER
Nest Your Desk supports the implementation of (full) remote working in organizations.
Viviane Kock is passionate about Public Relations, and chose to specialize, for over 20 years, in project and event management.
After a career switch, she started as a private interior and home office stylist, with an approach mainly based on the psychology of space.
Being self-employed from home and setting up home offices for her clients made her aware of the need to support companies in this new way of working.
In-depth research and various training courses allowed her to develop a broad expertise on remote working and hybrid working since 2015.
OUR GUEST SPEAKERS:
Saskia Caroline Irene Ravesloot, Senior gender and human rights expert & Lecturer PSIA Sciences Po, Founder of Saraco: She is a passionate, integrity-driven Gender & Human Rights Expert, strategically guiding organizations in support of Gender Mainstreaming (GM), Gender Responsive Budgeting, and Monitoring & Evaluation, targeting Gender Equality & Social Inclusion and Women's Empowerment & Rights.
Katrien Van Geystelen, Voice Coach, founder of Sparklin' voice is
In 2013, Katrien went to the German Lichtenberger Institut für angewandte Stimmphysiologie to train as a voice pedagogue. After that, she started her work as a voice coach, giving people a voice and connecting them with their inner, authentic self. As a voice whisperer, she strengthens the voice of enterprising professionals so that the impact of their story, presence and communication increases.
FOR WHO IS THIS WEBINAR ?
This webinar is aimed at any woman who want to have more impact in virtual meetings, as well as for any man who want to learn how to respect gender equity during any meetings.
For your information, this event will not be recorded.
INVOICE:
An invoice request possible post-event: viviane@nestyourdesk.be