Informations sur l'événement
Description de l'événement
This rearranged webinar will explore ways in which the EU can implement a strong, future-proof sustainable aviation fuel policy.
À propos de cet évènement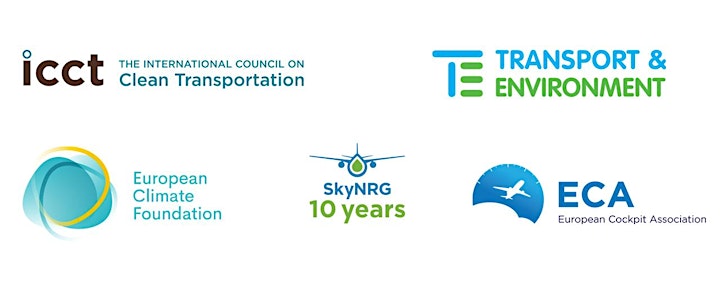 We find ourselves at a critical juncture to meet aviation's 2050 decarbonisation targets by implementing a strong, future-proof sustainable aviation fuel policy.
This webinar will present our guiding principles to interested parties from the European Commission and the European Parliament, as well as a facilitated discussion wherein the diverse stakeholder groups that contributed to Fuelling Flight can provide their perspectives on the development of the guiding principles.
14:05-14:10 - Welcome by Johan Danielsson, member of the European Parliament's Committee on Transport and Tourism and host of the webinar
14:10-14:20 - Opening Presentation: European Climate Foundation (Pete Harrison) will present the guiding principles for EU SAF policy design
14:20-14:25 - Videomessage by Pascal Canfin, Chair of the European Parliament's environment committee
14:25-14:55 - Panel Discussion: Four panelists representing different groups of participants in Fuelling Flight will each provide their perspectives on EU SAF policy
Airline priorities for successful SAF deployment – Ruben Alblas, Manager Public Affairs, KLM Royal Dutch Airlines
Fuel industry perspectives on scaling up sustainable SAF production - Maarten van Dijk, MD of SkyNRG
Sustainability protections necessary for SAF – Andrew Murphy, Aviation Director, Transport & Environment
Deploying SAF at airports – Denise Pronk, Manager Corporate Responsibility, Schiphol
14:55-15:15 - Questions & Answers with the panel
15:15-15:25 – European Commission Closing remarks, by Filip Cornelis, Director for Aviation, European Commission's Directorate-General for Mobility and Transport
Organisers:
This webinar is jointly organised by Transport & Environment (T&E), SkyNRG, the European Climate Foundation (ECF), the European Cockpit Association (ECA) and the International Council on Clean Transportation (ICCT).
The aforementioned organisations are part of the Fuelling Flight initiative, a multi-stakeholder group convened by the European Climate Foundation (ECF) and ClimateWorks Foundation (CWF) to provide recommendations on the sustainability aspects of the EU's policy design to support Sustainable Aviation Fuels (SAF). This group includes environmental groups, airlines and research organizations that have come together to reach consensus on several of the key policies necessary for the transition towards climate-neutral aviation. Over the course of the last year, the Fuelling Flight group has developed a set of guiding principles for the introduction of SAF policies in the EU, emphasizing the following:
The aviation sector is at a critical juncture where it can implement a strong, future-proof sustainable aviation fuel policy—getting it right now lays the groundwork for meeting 2050 targets
Airlines and environmental groups agree that the aviation industry can leapfrog the mistakes of food-based biofuels for the road sector and instead commit to supporting advanced fuels made from wastes, byproducts or electrofuels
The EU has the opportunity to be an early leader in producing truly sustainable SAFs and can demonstrate to the world that it can be done