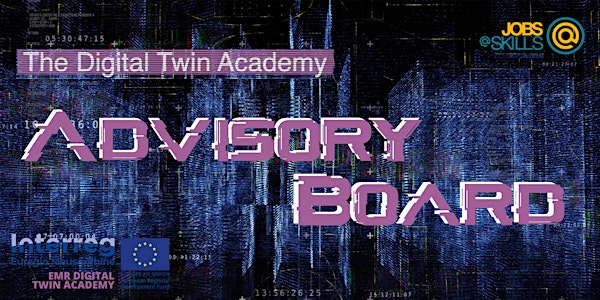 EMR Digital Twin Academy - Advisory Board
We are pleased to invite you to the third Advisory Board of the Digital Twin Academy Project.
Où et quand
Lieu
Gaston Geenslaan Gaston Geenslaan 3001 Leuven Belgium
À propos de cet évènement
3 heures 15 minutes

Billets électroniques sur mobile
The Digital Twin Academy project is being carried out within the context of Interreg V-A Euregio MeuseRhine, and from the European Regional Development Fund.
The Advisory Board is the project management committee designed to gather the consortium and the associated partners around the presentation the lessons learned from use cases.
This committee is aiming to adapt the direction of the project and to discuss the results obtained in the WP4 thanks to the associated partner's feedback and is also a moment of connection and networking.
Program
From 15h15 – 15h30: Check-in
15h30 – 15h40: Welcome and introduction (Nadia DARFOUF - Jobs@Skills)
15h40 – 17h20: Business Use Case of Digital Twin with Associated Partners - Concise overview of the test cases + in-depth presentation of 2-3 test cases (Coordination by Paul VALCKENAERS – UCLL)
17h20 – 17h30: Conclusion (Paul VALCKENAERS – UCLL)
till 18h30 - Networking and Drink