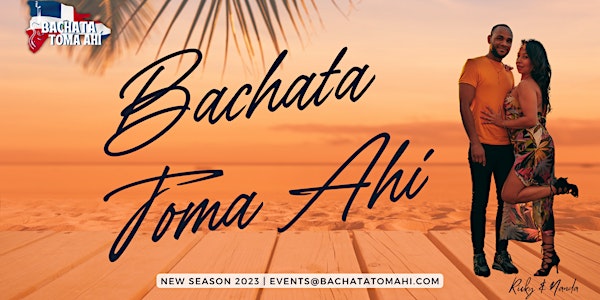 Dates multiples
BACHATA TOMA AHI - BRUSSELS BACHATA DOMINICANA
2023 NEW SEASON ACHATA TOMA AHÍ Bachata Dominicana in Brussels with Ricky & Nanda Every Tuesday in Brussels Studio Empain
Date et heure
mar. 17 janv. 2023 19:00 - mar. 28 mars 2023 23:00 CET
Lieu
Studio Empain 9 Rue de la Presse 1000 Bruxelles Belgium
Politique de remboursements
Contactez l'organisateur pour demander un remboursement.
Les frais d'Eventbrite ne sont pas remboursables.
À propos de cet évènement
BACHATA TOMA AHÍ
Bachata Dominicana in Brussels
with Ricky & Nanda
Every Tuesday in Brussels Studio Empain.
Learn how to dance Bachata Dominicana with the most Professional Instructors, with more than 20 years of experience.
NEW Exclusive Program 2023
We start this new season with the most complete program in Bachata:
- 2 Levels Improvers | Intermediates
- Styling Ladies & Men
- Body Movement
- Musicality with Live Instrument
- Footwork Only
🔹 7.30PM - IMPROVERS
You already know your Bachata Basics, you have some experience in Dominican or in other Bachata Style.
We will give you the key elements to understand better the music, the energy... We will show you the essentials for have a better flow and a nice connection with your partner.
🔹 8.30PM - INTERMEDIATES
You already dance Bachata and you want more ?!
We are here to teach you the secrets to becoming a Bachata Star!
We will teach you how to listen to the music, create your own Footwork and Partnerwork, and get a natural flow Dominicano.
🔹From 9.30PM - FREE SOCIAL PARTY
💰Fees :
1 lesson = 12€
11 lessons = 110€ | Full Pass
22 lessons = 200€ | Extra Full Pass
Special Discount for the participants of the FREE SESSION!
📍Studio Empain
Rue de la Presse 9, 1000 Brussels
Metro Madou
Central Station
🔻Infos here:
events@bachatatomahi.com
_________________________________
With more than 20 years of experience, traveling worldwide.
Ricky & Nanda are the most experienced Bachata teachers in Belgium!
They are experts in Musicality and the History of Bachata and Dominican Culture.
Bachata Toma Ahi - The Team
Gaby a new member of our team. She will teach you your first steps of Bachata.
Jisso a new member of our team. Passionate about Bachata with a Natural flow.
Joao our talented photographer
Julie our Camera Girl
➖➖➖➖➖➖➖➖➖➖➖➖
Also Available :
🔹Private Classes in Studio from 50eur
🔹Solo & Couples
🔹Play Bachata (Guitar, Percussion, etc.)
🔹Contact us for more information
events@bachatatomahi.com
À propos de l'organisateur