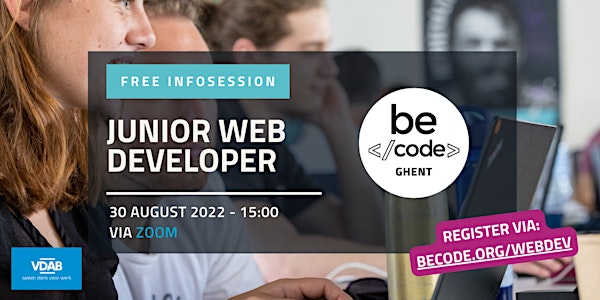 BeCode Ghent - Info Session - Junior Web Developer
Do you want to become a Web Developer in only 7 months? Follow BeCode's FREE Junior Web Dev training but gain more info first here!
About this event
Become a Junior Web Developer in only 7 months thanks to our Jr. Web Developer training (a 7 month full time training + ±2 months internship).
The training is open to everyone: we don't care about degrees, background, work experience, etc. We only need you to be motivated!
Do you have no knowledge about IT, but you are triggered by this course?
Would you like to learn how to build a professional website or app?
Do you want to know more about active pedagogy?
Would you like to start a career in web development?
You are exactly at the right spot!
Start date of this training: 12 december 2022.
Would love to have more info? Join us on August 30 at 15:00 for the Junior Web Developer Infosession via Zoom. >> ZOOM LINK
See you there!
Want to register already? Yes you can! Visit our website for more info: www.becode.org/WebDev or contact senay@becode.org for questions.
Team BeCode