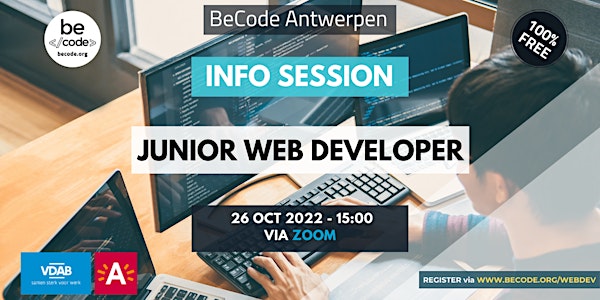 BeCode Antwerpen - Info session - Junior Web Developer
Info session for a FREE Junior Web Development training organized by BeCode so you can become a web developer in just 7 months.
About this event
In seven months, full-time + a ±2 months internship, become a Junior Web Developer.
The training is open to all: we don't care about degrees, work experience, etc.
We only need you to be motivated!
You have no knowledge about IT, but you are interested?
You would like to learn how to build a professional website, application?
You want to know more about active pedagogy?
You want to start a career in web development?
You are looking in the right place!
Start date: 22nd of November 2022
Why don't you join us on the 26th of October at 15:00 for our Junior Web Developer Info Session via Zoom.
Visit our website for more info: www.becode.org/WebDev