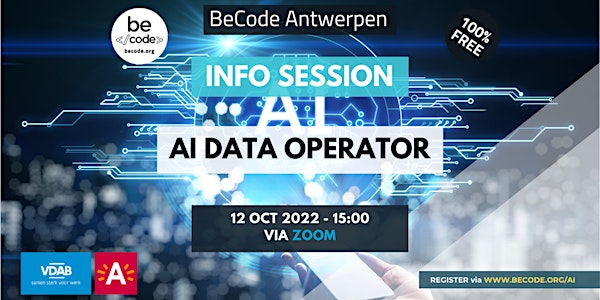 BeCode Antwerpen - Info session - AI Bootcamp
Info session for a FREE AI Bootcamp organized by BeCode so you can become an AI - data operator in just 7 months.
About this event
AI Bootcamp:
In seven months, full-time + a ±2 months internship, become an AI Data Developer.
The training is open to all: we don't care about degrees, work experience, etc.
We only need you to be motivated and have some algorithmic / coding knowledge or good preparation.
Do you have questions about the program?
You want to know how to register?
Is the assessment not clear enough?
Why don't you join us on the 12th of October at 15:00 for our AI Info Session via Zoom.
Visit our website for more info: https://www.becode.org/AI
Training Program:
Soft Skills: A good AI / Data Scientist needs a deep understanding of a client's needs and activities and must learn to communicate technical concepts to a customer who isn't a specialist in the field. Therefore, you will learn to speak in public, to collaborate smoothly, to be agile and to manage a project from A to Z.
Tech Skills: During this training, we work on different profiles:
Data analyst: Focused on business development, you'll be able to sift through data and identify trends. Create visual representations (charts, graphs, etc.) to better showcase what the data reveals. Help to make good business decisions based on insights.
Data scientist: You'll learn how to clean, massage and organize data, how to build models to solve a business need.
Machine Learning Engineer: You'll learn how to use data to train models, in order to use automated processes (image classification, speech recognition, market forecasting).