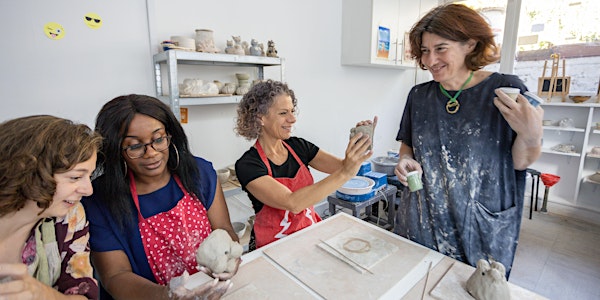 Apprendre la cèramique - Learning ceramics
Un trimestre pour apprendre la céramique - Tournage + Modélage A Trimester to learn ceramics - Wheel + Handbuild
When and where
Location
Fais-Le-Toi-Meme Rue Americaine, 11 1060 St Gilles Belgium
Refund Policy
Refunds up to 7 days before event
Eventbrite's fee is nonrefundable.
About this event
COURS EN FRANCAIS AND ENGLISH
ENGLISH FOLLOWS
Dans le coeur de St Gilles, un cours pour apprendre la céramique dans la bienveillance et la volontè de se relaxer.
Cours de tournage ainsi que de modelage. Pinching, colombin, plaques
Vous allez découvrive votre propre style et vous pourriez colorer vos pièces en utilisant l'engobe et l'email transparent.
Le cout couvre tout le materiel (outils + argile + couleurs) et ne couvre pas les cuissons. Amène ton propre tablier.
Dates des ateliers . MARDI 17.01 -- 24.01 -- 31.01 -- 7.02 --14.02 --x -- 28.02 - 7.02 --14.02 -- 21.03 -- 28.03 -
APRES MIDI - 14h00-16h30
SOIREE - 18h30 - 21h00
Pour plus d'info, contacter Claudia : 0485.616247 or epsiloc@gmail.com
ENGLISH
In the heart of St Gilles a course to learn ceramics in a welcoming an relaxed environment.
The ten sessions will cover the basics techniques of handbuild pottery (pinching, coil, slabs) as well as how to use the wheel.
You will discover your own style and you will be able to colour your creations using engobes and transparent glazes.
The cost includes all material (tools + clay + colours) and doesn't include baking of pieces.
Please bring your own apron.
Dates of the ateliers: Tuesday 17.01 -- 24.01 -- 31.01 -- 7.02 --14.02 --x -- 28.02 - 7.02 --14.02 -- 21.03 -- 28.03 -
AFTER NOON - 14h00-16h30
EVENING - 18h30 - 21h00
For more info please contact Claudia : 0485.616247 or epsiloc@gmail.com