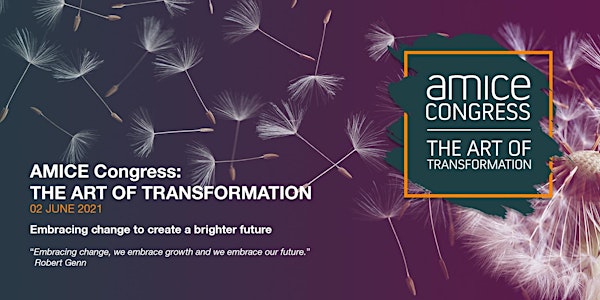 AMICE Congress: The Art of Transformation
A unique gathering of CEOs and senior management from Europe's mutual and cooperative insurance community.
About this event
Since its launch fifteen years ago, the AMICE Congress has become the most important event at which European mutual and cooperative insurers, their trading partners and EU policymakers congregate to discuss the latest regulatory, legislative and international developments influencing their business.
Delegates include key figures from economic and political circles and senior executives from trade associations, civil society groups and other financial institutions, resulting in an exceptional conference of industry leaders and influencers.
Held on a state-of-the-art conference platform, this year's AMICE Congress will provide the same quality mixture of high-level and practical conference sessions that delegates have enjoyed at previous in-person Congresses in Stockholm, Ghent, Nice, Gdansk, Genoa and Helsinki.
It will be a highly topical event as the Congress theme of transformation has never been as relevant as now! Disruption is taking multiple forms, leading to many channels of transformation. The virtual Congress will reflect the dynamic nature and unpredictable direction that change can take.