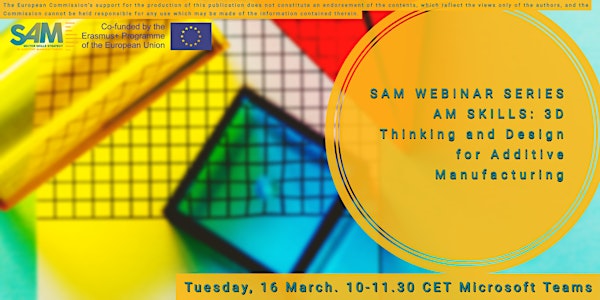 AM Skills: 3D Thinking and Design for Additive Manufacturing
The ability of 'thinking in 3D' or 3D Design has been deemed essential for AM professionals to enable the technology full potential.
About this event
According to our latest surveys' results, both industry representatives and academia deemed the ability to think in 3D as an essential skill for Additive Manufacturing workers. A well-designed part, in fact, not only displays engineering innovation and creativity, but also reduces material waste, time and labor. The session encourages the audience to consider that design is an important lifelong and transferrable skill that should be promoted in the Additive Manufacturing sector as a technology enabler.
The webinar will also present a real-case application of the ability to think in 3D as well as the training offers that are currently available to AM professionals or students.
Webinar Agenda
10 - 10.10 Welcome and Introduction by Kenan Boz, Technical Manager at EPMA
10.10 - 10. 25 "3D Thinking and Design for Additive Manufacturing": why thinking in a three-dimensional perspective is relative to the manufacturing processes involved, particular with respect to material use, processing time and for sustainability.
Dr Eujin Pei Director, Postgraduate Research, BSc Product Design Engineering BRUNEL UNIVERSITY LONDON
10.25 - 10.45 "3D thinking applied to a real working environment": to which extent 3D thinking has a positive impact in a company using AM technology? A real-case application of thinking in 3D.
Dr. -Ing. Georg Schlick, FRAUNHOFER RESEARCH INSTITUTE for Casting, Composite and Processing Technology · Head of Department
10.45 - 11.05 "Design for Additive Manufacturing: Challenges, Critical skills, and Effective training methods" : the approach for achieving optimum industrial design and associated training tools.
Dr Alexandre Hiricoiu, Senior Application Engineer, Ansys
11.05-11.20 Q&A and discussion
11.20 - 11.30 Closing remarks
The European Commission's support for the production of this publication does not constitute an endorsement of the contents, which reflect the views only of the authors, and the Commission cannot be held responsible for any use which may be made of the information contained therein.