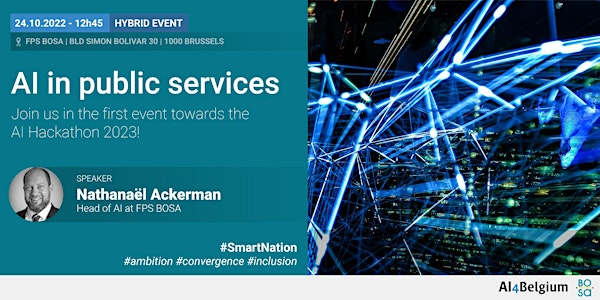 AI Hackathon 2023 - First Seminar - AI in the public services -
AI Hackathon 2023 - Seminar - AI in the public services - AI in publieke diensten - l'IA dans les services publics - #SmartNation
When and where
Location
Bd Simon Bolivar 30 30 Boulevard Simon Bolivar 1000 Bruxelles Belgium
About this event
----------------------EN----------------------
🧠 AI Hackathon 2023 - a #SmartNation initiative by FPS BOSA - AI4BELGIUM that aims to increase the uptake of AI within the public services. In the following months we will organize a serie of five seminars to showcase how AI can be used in public services.
Are you interested in understanding what AI can bring to the public services to better serve the citizens ? Do you want to know more about current challenges that the administration faces currently ?
🗣 Speakers:
Nathanaël Ackerman from SPF BOSA - AI4BELGIUM , will present an overview of AI applications in public services.
✔️ Who should attend?
you are a civil servant and you want to know how AI can improve your day to day business.
you are a citizen and you want to contribute to a better public service.
you are an AI specialist and you want to support the teams during the hackathon.
🥪 The interactive session, will be followed by an informal networking at FPS BOSA
🧑‍🎓 FREE event - Registration needed - Deadline October 23
---------------------NL------------------------
🧠 AI Hackathon 2023 - een #SmartNation initiatief van SPF BOSA - AI4BELGIUM dat de adoptie van AI binnen overheidsdiensten wil vergroten. In de komende maanden houden we een reeks van vijf seminars om te laten zien hoe AI in overheidsdiensten kan worden gebruikt.
Ben je geïnteresseerd hoe publieke diensten AI kunnen gebruiken om burgers beter te dienen? Wil je meer weten over de uitdagingen waar de overheid momenteel voor staat?
🗣 Speakers:
Nathanael Ackerman van de FOD BOSA- AI4Belgium presenteren een overzicht van AI-toepassingen in overheidsdiensten.
✔️Waarom deelnemen?
je bent een ambtenaar en je wilt weten hoe AI je dagelijkse werkzaamheden kan verbeteren.
je bent een burger en je wilt bijdragen aan een betere publieke dienstverlening.
je bent een AI specialist en je wilt de teams ondersteunen tijdens de hackathon.
🥪 Deze interactieve sessie wordt gevolgd door een informeel netwerkmoment in de FOD BOSA.
🧑‍🎓 GRATIS evenement - Registratie verplicht - Deadline 23 oktober
--------------------FR-------------------------
🧠 AI Hackathon 2023 - une initiative #SmartNation du SPF BOSA - AI4BELGIUM qui vise à accroître l'adoption de l'IA au sein des services publics. Dans les mois à venir, nous organiserons une série de cinq séminaires pour montrer comment l'IA peut être utilisée dans les services publics.
Souhaitez-vous comprendre ce que l'IA peut apporter aux services publics pour mieux servir les citoyens ? Voulez-vous en savoir plus sur les défis actuels auxquels l'administration est confrontée ?
🗣 Speakers:
Nathanael Ackerman du SPF BOSA - AI4BELGIUM, présenteront un overview des applications IA au sein des services publics.
✔️ Pourquoi participer ?
vous êtes fonctionnaire et vous voulez savoir comment l'IA peut améliorer votre travail quotidien.
vous êtes un citoyen et vous voulez contribuer à un meilleur service public.
vous êtes un spécialiste de l'IA et vous voulez soutenir les équipes pendant le hackathon.
🥪 La session interactive, sera suivie d'un réseautage informel au SPF BOSA..
🧑‍🎓 Événement GRATUIT - Inscription obligatoire - Date limite 23 octobre.