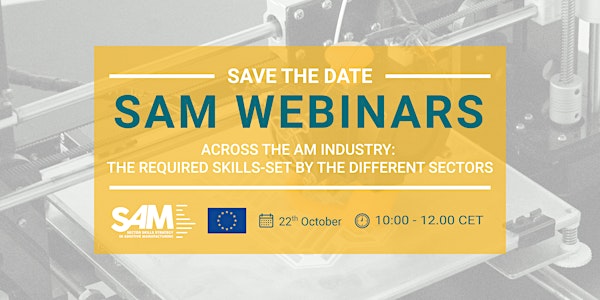 Across the AM Industry: the Required Skills-set by the Different Sectors
SAM Project will host sectoral experts to understand how skills and qualifications for AM can change according to the considered industry
About this event
The substantial growth of Additive Manufacturing is partly attributed to the fact that AM is being utilised across various sectors, which include Transportation, Medical and Health, Energy, Industry equipment and tooling, Construction among others.   
In this context, there are different AM requirements across various industrial sectors, impacting the skills requirements and qualifications for professionals from the different sectors.  
To foster the uptake of AM in various sectors, the involvement of different sectorial stakeholders in the identification and validation of necessary skills/qualifications is crucial as well as the engagement with different sectorial organizations to allow a sectorial view on skills and qualifications for AM. 
The webinar will address the perspectives from different sectors towards a detailed understanding of their challenges and needs in AM.  The results from Blueprints projects in the automotive, defence, maritime  and construction sectors and their linkage with AM will be showcased. 
Each speaker will present Blueprint project achievements, and specifically address their experience with Additive Manufacturing: challenges in using AM in their sector, specific requirements, the impact of using AM in workers' qualification and training and other interesting implications.
Draft Agenda
10.00 - Introduction, Paula Queipo, Director of Business Operations, IDONIAL - SAM
Understanding the sectoral needs for skills in AM - panel discussion with representatives from automotive, maritime, defence and construction sectors.
10.10 - Jakub Stolfa, from VŠB - Technical University of Ostrava, DRIVES coordinator
10.30 - Gualtiero Fantoni, from UNIPI - University of Pisa, ASSETs+ coordinator
10.50 - Silvia Santos, from Fundación Laboral de la Constucción, Construction Blueprint coordinator
11.10 - Lucía Fraga Lago, from Fundación CETMAR, Centro Tecnológico del Mar - MATES coordinator
11.30 - Debate, Paula Queipo, Director of Business Operations, IDONIAL - SAM
11.50 - Closing Remarks