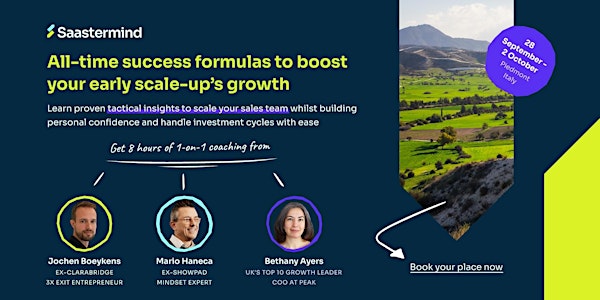 Acceleration weekend for early scale-up leaders in B2B SaaS (Italy)
4-day event for B2B SaaS leaders. Expert sessions & peer-sharing prepare founders and sales executives for international growth success.
When and where
Location
The Workation Village 9 Via Novarina 10020 Villa Italy
About this event
Up to 95% of SaaS companies fail before they reach €1 million in ARR.
Even for those that do, the journey tends to end here.
Why? Because scaling is hard. Even more with difficult macro-economic circumstances.
During our acceleration weekend, you will get invaluable, actionable insights into achieving scale-up success.
Directly aimed at founders and sales executives, this exclusive events is led by senior entrepreneurs with proven track record in B2B SaaS. From peer-based workshops, to intensive one-on-one coaching sessions, this masterclass focuses on 3 critical topics in scaling your business:
Sales Leadership, Conscious Fundraising and Personal Mindset.
Sales leadership: Learn how to organise yourself to efficiently manage de-centralized sales teams across foreign markets. Successful scale-ups combine a proven business case in their home market with early activities to expand internationally. Leading this segment is Bethany Ayers, ex-CCO and current COO of Peak. Recently rated as one of UK's top 10 growth leaders in tech, Bethany has a track record of leading high-growth businesses in GTM strategy, rapidly scaling their sales organizations, delivering profitable partnerships and fundraising from VC's.
Conscious fundraising: Learn to master the momentum behind partner-investors relationships, from timing to onboarding processes. When and why you step in with an investor highly impacts the company's direction and decision-making process. In many cases investor discussions are held too early or too late. Jochen Boeykens, a feet-on-the-ground & serial triple exit entrepreneur (ex-Clarabridge), will lend us insights into sustainably achieving exit paths whilst gaining investors as well as the do's and don'ts when fundraising.
Personal mindset: Are you aware of limiting behaviours, habits or beliefs? Thinking big is a necessity to achieve a company's full potential. With over 20 years of experience in senior sales at several B2B tech companies, mind-set expert Mario Haneca (ex-Showpad) leads this segment, teaching us how to transform our way of thinking to make quantum leaps in everything we do.
Practical information:
For who:
Pre-registrations are open to scale-up leaders of B2B SaaS companies that passed €1 million in funding and/or turnover. This pre-registration is non-binding.
The event is open to founders and sales executives who are actively involved from a strategic business perspective.
In-between expert sessions, participants are free to continue their daily work or enjoy activities organized by Saastermind in collaboration with local partners.
The price:
Prices range from 2.450,00 euros (double room) to 2.700,00 euros (single room) and are all-inclusive (airport transfer at location, food & drinks, accommodation and costs related to activities organized on-site)
Flights can be booked upon demand. Participants are free to extend their stay at the Workation Village if they want to.
Who are Saastermind?
Saastermind is Europe's first peer-mentoring program for B2B SaaS Leaders. We're an application-only, top-quality community where high-growth professionals are brought together in exclusive cohorts.
Participants are matched with like-minded peers to tackle their most prominent challenges. Sessions are organized online for international groups of 6 people with a 4-day offsite event at a European destination.
We annually host one acceleration weekend for both members and non-members where like-minded leaders exchange experiences and knowledge around a curated list of topics.
Content for the program is shared ahead of registration, with topic discussions led and delivered by top-tier B2B SaaS experts who join participants at the event.
Our venues are high-end facilities that are ideally equipped and supported by Saastermind to ensure that participants are fully engaged and energized as they connect with their industry peers.
We're looking forward meeting you there!