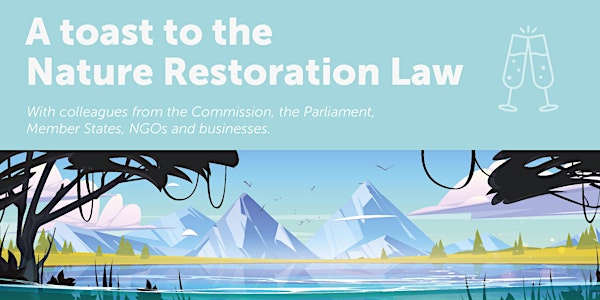 A toast to the Nature Restoration Law
Informal drinks to kick-off the legislative procedure of the Nature Restoration law together.
When and where
Location
Hanse-Office 20 Avenue Palmerston 1000 Bruxelles Belgium
About this event
BirdLife Europe, supported by its German Partner NABU, is glad to invite you to informal drinks, to start the legislative procedure of the Nature Restoration Law together.
By presenting the legislative proposal for binding nature restoration targets on the 22nd of June, the European Commission took a big step forward in tackling the twin climate and biodiversity crises. Throughout the co-decision process, it will now be up to the European Parliament and the Council to help unlock the full benefits of ecosystem restoration and to lay the foundations for a solid law benefiting both people and our planet.
BirdLife Europe is working on this file in close cooperation with colleagues from the European Environmental Bureau (EEB), ClientEarth and from WWF European Policy Office.
This event is for decision makers from the European Institutions and experts from NGOs and businesses, to have a for first informal exchange on how to make the Nature Restoration Law a great success.
There will be short inputs from representatives of the institutions and NGOs, followed by a reception.
Please register by September 6.