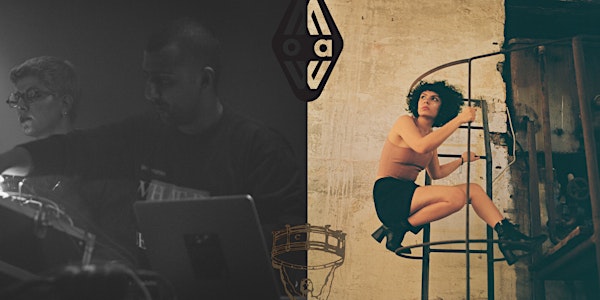 9T Antiope (Iran) + Rojin Sharafi (Iran)
An evening of Iranian electronic music: 9T Antiope + Rojin Sharafi
Date and time
Sat, 4 Mar 2023 20:30 - 23:30 CET
Location
Les Ateliers Claus 15 Rue Crickx 1060 Bruxelles Belgium
About this event
Les Ateliers Claus in collaboration with Music On A Whim presents a night of cutting edge Iranian electronic music from two of the finest exponents of the genre.
9T ANTIOPE
9T Antiope, derived from 90 Antiope double-asteroid in the Solar System between Mars and Jupiter, is a duo of Paris based-Iranian musicians Nima Aghiani and Sara Bigdeli Shamloo. Focussed on experimental music using layers of acoustic instruments, electronics and combining them with vocals and lyrics, in order to narrate tiny bits or huge landscapes of the chaotic worlds they envision. Their music expresses bleak feelings, inspired by the unrelentingly "brutal, unjust and angry" state of the world, and often takes unpredictable turns around sharp corners into darker, noisier passages.
They have released music on reputed labels such as PTP (Purple Tape Pedigree), Eilean Rec., Hallow Ground, Flaming Pines, Unperceived Records and an upcoming project on American Dreams
"Whatever it might mean, it is absolutely gripping, immersive and surrealistic, cinema without sight." Philip Sherborne – Pitchfork
"A sort of sonic thought experiment, as cerebral as it is visceral" The Wire
www.9tantiope.com
ROJIN SHARAFI
Rojin Sharafi is Vienna-based, Tehran-born artist that draws on cinematic and literary influences in her acoustic, electro-acoustic, and electronic music. She creates entirely unique musical textures through the use of analogue, and augmented instruments and sometimes acoustic instruments like the santur and piano. Her songs blend noise, folk, ambient, metal, and contemporary music with layers of narrative to produced "engineered chaos". Sounds stretch and reverberate as her songs fiddle with temporal and structural restrictions.
Sharafi has been part of the line-up at international festivals such as SET x CTM 2018 (Tehran), Unsafe + Sounds 2018 (Vienna), Hyperreality 2019 (Vienna), Wiener Festwochen 2020 (Vienna) and released on labels such as Zabte Sote and Ventil records
"Sharafi plays by no known rules and sculpts by no known methods" Tristan Bath, The Quietus
"Sharafi is one of the many Iranian composer…exploring the outer limits of electronic music" Bandcamp Daily
www.rojinsharafi.com
Music on a Whim is a newly launched concert promotion banner run by Harsh Agarwal. Follow here for updates: https://www.facebook.com/profile.php?id=100089303418289