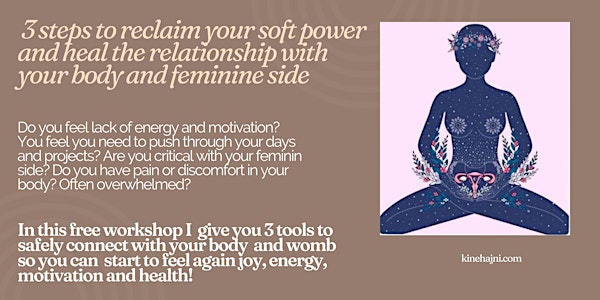 3 steps to reclaim your soft power and heal the relationship with your body
3 steps to reclaim your soft power and heal the relationship with your body and feminin side - Free Zoom workshop
About this event
Do you feel lack of energy and motivation? You feel you need to push through your days and projects? Are you critical with your feminin side? Do you have pain or discomfort in your body? Often overwhelmed?
In this free workshop I give you 3 tools to safely connect with your body and womb so you can start to feel again joy, energy, motivation and health!
We start to explore how to leverage your body and the dormant energy in your womb. We look in to what might tie you down, perhaps blocks your joy and energy flow. I guide you to see the beliefs what you might carry as a woman and it does not serve you anymore. And we are going to talk about pain and disappointment related to our womb, womanhood and how to turn it around.
At the end there is Q&A.
If you can not attend Live, there will be a replay available.
Can you afford and miss this opportunity?
Come and join us to start reinventing, healing and transforming yourself!
With Love,
Hajni
https://kinehajni.com/events-workshops/
kinehajni@gmail.com
My story
I'm a woman deepening my connection with my Innate True Woman for years now. Always finding new shadowed places to liberate and bring light on them. There were many transformative events in my life where I needed to go through deep grief, loss, change. Reinventing myself, finding myself again and again is a second nature for me now. I work with the body more than 15 years now as a physical therapist specialized in female body, pelvic floor, birth and as a yoga teacher. I am also doing individual constellations and transformation mentoring for body & mind & soul for more than 3 years and recently attained an international health and life coach certification. I lead groups and circles onsite and online.
My mission is to empower and liberate women to be themselves, finding a safe place from within