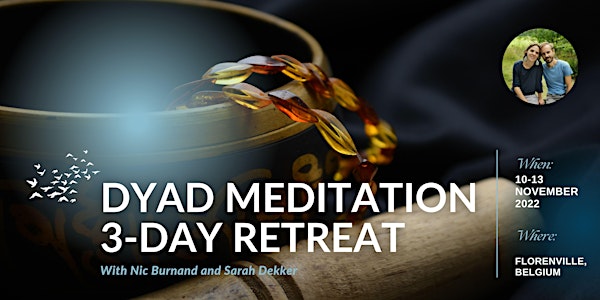 3 day Dyad Meditation Retreat
Dyads are how we awaken to life in community. "Although you have to do the work yourself, you do not have to do it alone"
When and where
Location
La Ferme Du Bois-Le-Comte Cvba 1 Bois-le-Comte 6823 Florenville Belgium
About this event
This is the time of year to turn the attention inward, to slow down and reconnect to yourself and life... a time to watch yourself unfold and return home to yourself.
Welcome to our 3-day Dyad Meditation Retreat!
Come on a journey of direct experiencing, sensing and being – witnessing the mystery of existence reveal itself.
In this retreat individual and group, processes will be alternated with periods of individual reflection, and quiet contemplation. There will be optional space for creative exploration, drawing and body movement.
Through the Dyad enquiry practice, we will become present to what arises in each moment, getting insights into our inner world, remembering what it means to be alive.
What are Dyads? Dyads are a powerful meditation technique in pairs. In contrast to silent meditation methods practised alone, this one is practised face-to-face. Increase your ability to stay present and in the moment as you go deeper into each inquiry. Using Dyads we learn to trust ourselves and to speak from that place of inner awareness. Creating a space for just being who you are, as you are, as a human being, accompanied by another.
This is not a self-improvement workshop, in which certain aspects of ourselves would be perceived as needing change, fixing, healing. The participants will be continuously encouraged to experience and embrace the Whole, rather than move from an "imperfect" state to a "better" one.
LISTEN WITH YOUR WHOLE BEING. SPEAK FROM YOUR DEEPEST AUTHENTICITY.
The Chinese philosopher Chuang-Tzu stated that true empathy requires listening with the whole being. 'The hearing that is only in the ears is one thing. The hearing of the understanding is another. But the hearing of the spirit is not limited to any one faculty, to the ear or to the mind. Hence it demands the emptiness of all the faculties. And when the faculties are empty, then the whole being listens. There is then a direct grasp of what is right there before you that can never be heard with the ear or understood with the mind."
We are both very excited and passionate about co-creating this retreat in which we as a community witness and support each other to come home to ourselves, to life, and embody our deepest authenticity.