Evenementdetails
Locatie
Online
Online
2550 Kontich
Belgium
Restitutiebeleid
Restituties tot 7 dagen voor evenement
Eventbrite-kosten zijn niet restitueerbaar.
Beschrijving van het evenement
Visualization skills for Process- & Change consultants, Scrum Masters, Product Owners and Agile Development Teams
Over dit evenement
Strategic reorientation, business models, workflows and data interfaces: Thinking with the pen can play a key role at all levels of the process view. Those who work together as a team receive a personal identification with the project, a quick common understanding and more creative solutions.
Give your process documentation a clarity, emotion and dynamism that you can not achieve with traditional methods. In this training special you will learn techniques, visual vocabulary and visualization methods for different complexity levels and apply them to your own case studies.
Context
nterdisciplinary teams that deal with strategic changes or improving work processes often no longer see the wood for the trees. Is there a big plan? Are we talking about the whole or about the detail? Where are values created and where are they wasted? What do processes and handovers look like from different perspectives? Who is involved in what? Where are the levers for improvement? How deep must be entered into detail?
We are convinced: Visualization offers a way out of the complexity thicket. Whether you draw the "big picture" of a change project with your team or are on the trail of the devil in the details of data interfaces - collaborative thinking with the pen helps to visualize strategies and to record, analyze and optimize processes.
In our training special you will learn the basic drawing tool:
​​a fast visualization technique, with which you can bring your questions and ideas "quick & dirty" into conversation,
a simple visual vocabulary of pictograms for roles, documents, media, steps and rules,
and visual methods developed by bikablo especially for the different complexity levels of process analysis.
all this you can use for yourself as a visual facilitator - or for the small group work, in which all involved grab the pen.
This training is for you if
You have already attended a bikablo visualization training or similar training and are familiar with visualization baseline techniques.
You are a process or change consultant, an agile coach or in any other role in the field of process analysis and optimization active and open to participatory work.
You can bring a process case example to work on in the second day in an interdisciplinary group.
Especially for:​​
Process- & Change consultants
Project Manager, Agile Coach, Scrum Master or Iteration Manager
Process- Business-, IT analysts
Trainer, Coach or Facilitator
User Experience Expert, Business Analyst
Have a look at www.bizzuals.com for more practical info on scope and -what else you get-
Max amount of participants?
To maximize your learning curve, it is key for us to be able to provide you with individual feedback. Therefore we will limit the max amount of participants per session to 10 participants
What else do you get?
Starterset: Every participant receives the official bikablo StarterSet including 4 visualisation markers and a full colour StarterBooklets.
Cost?
Tickettype 1: Bizzuals regular ticket - 2 days training track + starterkit + certification + community + vouchercode (prices incl BTW)
For more information regarding contactdetails or trainings - take a look at www.bizzuals.com
Cheers, 
Koen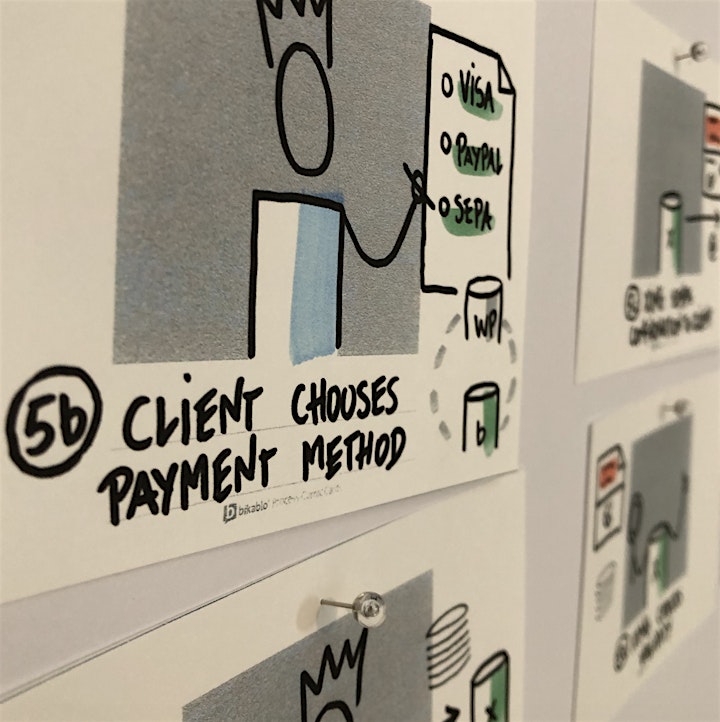 Datum en tijd
Locatie
Online
Online
2550 Kontich
Belgium
Restitutiebeleid
Restituties tot 7 dagen voor evenement
Eventbrite-kosten zijn niet restitueerbaar.