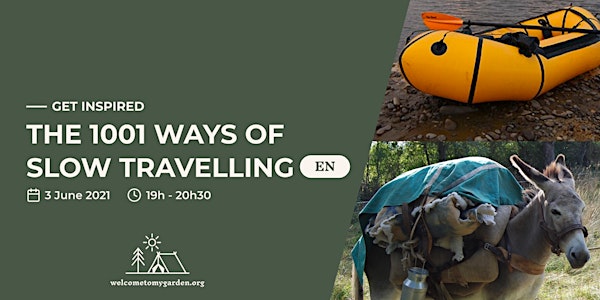 1001 ways of slow travelling
There are 1001 ways of slow travelling. Join us to get inspired and plan your next adventure!
Refund Policy
Contact the organiser to request a refund.
Eventbrite's fee is nonrefundable.
About this event
What better way to prepare for your next slow travel than getting inspired by like-minded travellers?
We are super thrilled to invite you for our kick-off event of our first Slow Travel Mini Festival: 1001 ways of slow travelling. During the evening, we'll hear stories of like-minded slow travellers from our community who have slow travelled in a 1001 different ways.
Programme for this workshop:
Kick-off of the Welcome To My Garden Mini Festival & greeting from the team
Talk 1: Cycling from Brussels to Tokyo & starting Welcome To My Garden, by Manon & Dries, cofounders Welcome To My Garden.
Talk 2: Falling in love with packrafting by Luc from Packraft.be
Talk 3: 40.958km on human power, the epic story of a 4-year slow travel by Zoë & Olivier from Weleaf.
Talk 4: Slow travelling with a donkey, how does that even work? Carolien answers all our questions!
We will finish the evening with a community moment, where members of the WTMG community can share their stories and inspire each other. We're so (so) excited to 'see' you there and we can't wait to get inspired together and hear all your stories!
Disclaimer: be careful, you might want to leave on a slow travel the day after :D
This event will be organized in English but some parts might be in French or Dutch. We'll make sure everyone understands everything!
--------------
This event is part of our slow travel mini festival, a series of 8 workshops to prepare your slow travels with the community. The festival is organized by volunteers of Welcome To My Garden. All workshops will take place online.
Any specific questions or suggestions? Or want to talk about your ideas or initiatives? That's fantastic! Just drop us a message at team@welcometomygarden.org.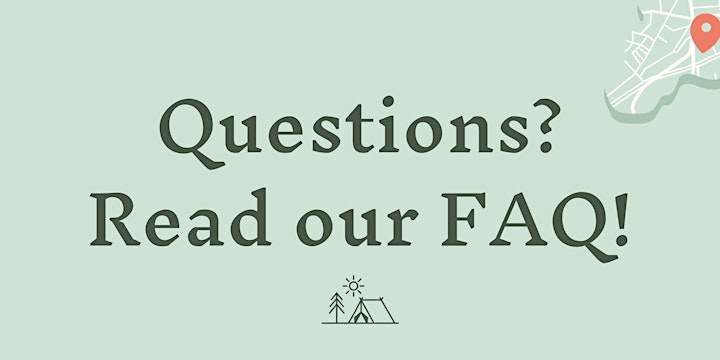 ***FAQ¨***
What is our slow travel mini festival about?
The slow travel mini festival is a series of inspirational and practical workshops organized for and with the Welcome To My Garden community. With Welcome To My Garden we're on a mission to make slow travelling the new normal. We want to empower you to start your slow travel journey: get inspired by others and plan your route. On top of that, we will also show you how you can help improve maps and rethink the public space. And, last but not least, this festival is also a fantastic opportunity to get the Welcome To My Garden community together!
Who is organizing this?
The slow travel mini festival is organized for and with the Welcome To My Garden community.
Why are you asked for a workshop ticket?
First of all, we want to make sure to cover all organisational costs of our festival. All remaining budget and donations will be used for technical improvements of Welcome To My Garden. Although using Welcome To My Garden is free to use and will remain free, the technological infrastructure isn't. In the next few months, we really want to prepare the next steps and improve the Welcome To My Garden platform.
As we did from the beginning, we strive for transparent and open finances. You can check out the WTMG budget and expenses on https://opencollective.com/welcometomygarden.
Where will the remaining budget and donations be used for?
Monthly cost for platform maintenance: keeping Welcome To My Garden online costs €175 per month (during the summer time with a lot of users).
Developing a search function on the map, so that you don't need to keep on searching endlessly on the map.
Developing filters to identify gardens with specific facilities.
Center IP address on the map (the map will be centered on your location).
Add a report button, in case there's a traveller or a host not respecting the rules.
Develop our back-end infrastructure. In short, the back-end is the technical infrastructure that allows us to store our database. We currently use a closed commercial service and the time has come to build our own infrastructure. Open Source is at the core of Welcome To My Garden and this will allow us to welcome more contributors!
All financial transactions are openly published on https://opencollective.com/welcometomygarden.
What if you really want to attend the workshop, but you can't pay the event contribution fee?
The mini festival is an event that anyone can join. That's why we also offer free solidarity tickets. Our free solidarity tickets aim to give individuals with little or no financial resources the possibility to attend the workshops for free. These tickets are reserved for students and unemployed travellers. If there are no more solidarity tickets available, you can sign up for the waiting list.
Click here to apply for a free solidarity ticket.
I'm not a user of Welcome To My Garden - can I participate?
Of course! This festival is for both beginners and experienced slow travellers. You don't need to have a Welcome To My Garden account to participate. Everyone is welcome!
What do I need for the workshop?
You need to have wifi and, if possible, a computer (except for the 1001 ways of slow travelling & the commons workshop where you could use a smartphone to access the talk).
One ticket = one family is okay!
If you're a family or a group of friends under the same roof, you only need to get a ticket. Think about making a donation if you want to support Welcome To My Garden. ;)
Do you love our slow travel mini festival and want to partner up?
Shoot us an email at team@welcometomygarden.org ;)