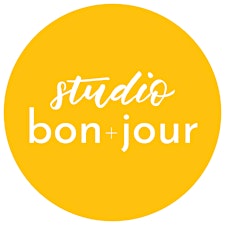 studio bon+jour
Verlies jij ook zo vaak in die dagelijkse ratrace?
Ben je ook constant op zoek naar een uitweg, een plek waar je zowel rust als energie vindt, waar je alles even vergeet en je verliest in me-time?
Zoek niet verder....
Met studio bon+jour gaan we ietsje verder dan de standaard workshops.
Op onze agenda staan workshops met net dat tikkeltje meer. 
De workshops bevatten eenzelfde gemeenschappelijke eigenschap:
ons dagelijks leven een stukje vrolijker invullen door kleine, eenvoudige en gezellige momenten.
 Creativiteit, ontspanning en zelfontplooiing staan centraal.  
Elke workshop staat onder de deskundige leiding van een gepassioneerde lesgever die zijn of haar unieke 'ding' komt delen.
Laat je inspireren!
En dit allemaal in onze eigen studio in hartje Halle! 
Kom alleen of samen ....
Allen welkom!
Sorry, there are no upcoming events