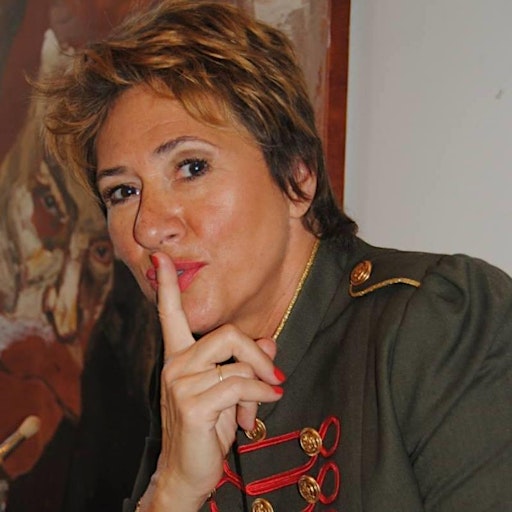 Paula Raiglot
Born in Brussels Cosmopolitan Capital, inspired by the diversity of this city, Paula expresses her art in paintings where colours are essential.
Paula is a painter who also specializes in incorporating drawing and a number of interesting techniques in her quest to express her art to the fullest. Her training includes courses at the well known ACADEMIE DES BEAUX ARTS in Brussels and workshops with the abstract belgian painter Charlotte Vindevoghel.
Her interest in the human psyche led her to also study portrait work. She is still keen to create portraits that pay special attention to the intimate, unique psychological aspects of her subjects.
She is also driven to express herself through abstract work too. It is intriguing to see that her deep interest in spirituality and the influence of religion on mankind, is reflected in many aspects of her work, spotlighting their impact on human behaviour.
Paula frequently reflects with great enthusiasm her and others fundamental questions about life through the subject of her paintings. This includes the various life conditions experienced by women, the world of human rights, as well as socio-cultural integration.
She is not afraid to express pain either in her work. Some of her work is captured in what she calls << RAIGLOGRAM >>, where she will insert short phrases to allude to the subject of the piece.
Other interesting areas of her work are where she carried out studies around the number "9", as well as the ancient civilization born out of the beautiful group of Greek islands known as the CYCLADES. From these sources of inspiration she created a huge number of acrylic paintings, a technique that she deeply adores.
The art of PAULA RAIGLOT has two different, but complementary main themes. On the one side, a figurative form of expression, which gives her the opportunity to scrutinize and expose human nature, as well as the human body. The other, her more abstract work, which frees her to take more liberties in what represents the sometimes more delicate questioning she, as the artist, needs to express.
Helaas, er zijn geen komende evenementen