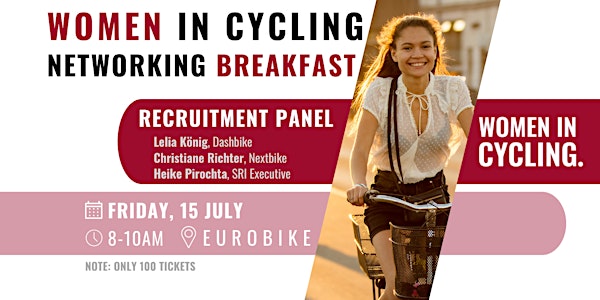 Women in Cycling - Networking Breakfast
Location
Messe Frankfurt Halle 8
Ludwig-Erhard-Anlage 1
60327 Frankfurt am Main
Germany
Women in Cycling is focusing on the topic of recruiting in 2022 and we warmly welcome you to our networking breakfast at EuroBike
About this event
Women in Cycling is focusing on the topic of Recruiting in 2022; how do we enable greater diversity in the cycling sector, what steps do companies and organizations need to take, how can we encourage career changers, and how do we work together to make the cycling sector more attractive to women?
In this breakfast, we want to look at recruiting from three perspectives:
From the employer's perspective with Lelia König, Dash Bike
From the perspective of an employee with Christiane Richter, Nextbike
From the recruiter's perspective with Heike Pirochta, SRI Executive.
The main focus of the breakfast will be on networking. We will have short impulses from the speakers and exchange views on the respective perspective (employer, employee, recruiter)while enjoying a delicious breakfast. We plan to change tables three times in order to talk to as many women as possible.
The event is hosted by Women in Cycling and supported by Women in Mobility. It will be a women-only event defining the term 'woman' broadly, for example also including trans and non-binary people.
Please note that it is not possible to participate digitally, only on-site and that a valid ticket for EuroBike is required to enter the venue of the networking breakfast.
Our partners are SRI Executive, Jobrad, Nextbike, Velokonzept.
The event will be followed by an all-female panel on the topic of mobility budgeting powered by Jobrad.