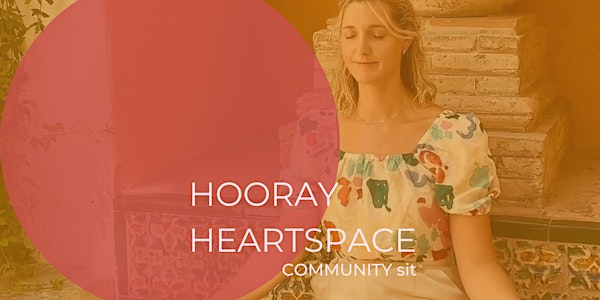 Weekly Community Sit guided by Gaëtane (ONLINE live meditation)
Creating a loving space for you to get you grounded, relaxed and refreshed.
Refund Policy
Contact the organizer to request a refund.
Eventbrite's fee is nonrefundable.
About this event
Warmly guiding and supporting you into meditation. Let's gather, connect and share experiences. All levels welcome. ˘ ◡˘
[This is for you if]
◡ You have a busy/analytical mind
◡ You get overwhelmed easily
◡ You have trouble sleeping
◡ You are new to meditation and need some help getting into the habit
◡ You are an experienced sitter and long for some bonding over practice
[I got you]
◡ Online meditation class designed to get you grounded, relaxed and refreshed.
◡ Learning 'on the cushion'-techniques to show up more authentically in your 'of the cushion'-life.
◡ Join a warm community where you feel seen, heard and valued.
[Short 'n Sweet]
◡ 10 min Talk
◡ 25 min Sit
◡ 10 min Share
[PWYW pricing]
Contribute to keep this going for you.
[A word from the community]
"Gaëtane is a wonderful and joyful meditation instructor. She uses her deep knowledge of Buddhist teachings to help her students in their daily lives, and she does it with a light and playful touch. I can't wait to sit with her again." - Nate, NYC
"I usually meditate on my own and I never thought about doing a group guided meditation, I'm a very socially anxious person, and I've been avoiding group activities my entire life. Gaëtane really took my hand and literally guided me through one of the most intense moments I had through meditation, it helped me realize so many things that were hidden in my subconscious, I know this is subjective and other people might react to things differently, but I would definitely recommend at least trying it, you never know where it will lead you." – Sam, Valencia
"A guided meditation with Hooray Heartspace is like walking into a free, calm, non judgmental space. Gaëtane is an excellent guide, teaching you how to meditate but also the "science" behind it. Hooray Heartspace creates a space where you're free to relax and open yourself up to likeminded individuals - even for those who are not used to meditation or sitting still." - Yasmin, Antwerp
[About]
With her vibrant and loving energy Hooray Heartspace founder & certified mindfulness teacher Gaëtane speaks from her heartspace and cheers on your practice. Her transformational healing journey started with and continues to be primarily meditation focused. Years into her personal practice, she went off to Thailand to deepen her practice while living alongside the monks of the Wat Pa Tam Wua Buddhist temple. She continued studying and practicing with Vipassana teacher George Haas and completed a 10-day silent Vipassana meditation course as taught by S.N. Goenka. Enamored with the practice and eager to explore other traditions, Gaëtane continued her studies with Tibetan Buddhist teacher Lodro Rinzler and became a certified mindfulness teacher. Committed to her path she continues studying with Lodro widening her scope and further deepening her personal practice. As a firm believer of a multi-faceted approach, she doesn't leave a stone unturned and dives into various self-healing practices to bring you her deepest, sincerest and most transformative learnings. You will feel warmly guided and supported in her classes. ̆◡ ̆
w/ love,
Gaëtane