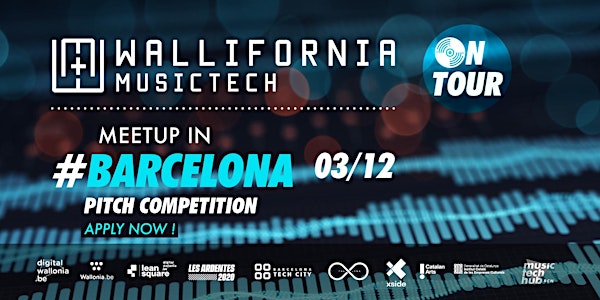 Wallifornia MusicTech On Tour - #1 Barcelona // Startup/VC's meetings
Wallifornia, the MusicTech hub based in Liège (Belgium) is embarking on a tour to build international bridges. ​First stop : Barcelona !
When and where
Location
Carrer dels Abaixadors, 10 10 Carrer dels Abaixadors 08003 Barcelona Spain
About this event
ABOUT THIS EVENT
Digital transformation is picking up in Wallonia/Belgium. Already known for its world class festivals, the Region has now become an international Musictech Hub, thanks to major players such as Wallifornia, Les Ardentes and LeanSquare but also a bunch of creative startups. Supported by public funded initiative Digital Wallonia, Wallifornia is embarking on a tour to build international bridges. ​
First stop : Vibrant Barcelona!​
On Dec 3d, from 1PM to 4PM, just before our Wallifornia On Tour meetup (4PM - 10PM - Program and tickets here), we offer to 6 selected startups to meet VC's in 1_1 meetings.
Those 6 startups will also pitch during our meetup in front 100+ pro's (To win free tickets for next Wallifornia MusicTech/Les Ardentes in Belgium next July 2020).
Please apply before Nov 30 noon.
PROGRAM
1:00 – 2:00 PM ​- Welcome + Lunch
2:00 - 4:00 PM - One-to-One Meetings VC – Startups ​(For the 6 selected start-ups)
​With Local & International VCs featuring LeanSquare, PlusEight Equity Partners ... more to be announced​
4:00 PM CONFERENCE KICK-OFF​ (Program and tickets here)
6:00 PM PITCH COMPETITION (for the 6 selected start-ups)
ORGANIZERS
WALLIFORNIA MUSICTECH
Wallifornia is a sunny MusicTech hub based in Liège (Belgium), where startups, music professionals, investors, developers and hackers develop together the future of the music industry. Once a year, to kick-off the Music Festival Les Ardentes (100.000 attendees), Wallifornia gathers 750+ attendees around keynotes, panels, pitch competitions, match making sessions, acceleration program, hackathon, demos, performances and of course, epic parties. During Les Ardentes, Wallifornia is also THE place to be for gamers. The 100.000+ attendees are welcome in the gaming zone and in the Wallifornia Park to shine challenging each other's.
www.walliforniamusictech.com / www.lesardentes.be
LEANSQUARE
LeanSquare's is a seed and pre-seed (From 25k€-500k€) investment fund that invests in digital startups. For now, the fund has already co-invested around 60 millions € in around 60 startups. Internationally, the 2 mains sectors of investments are MediaTech (MusicTech, GamingTech, PodcastTech, etc.) and AirCargo. ​ LeanSquare is part of Noshaq Group. Noshaq is the reference financial partner for the creation and development of SMEs in the Liege Region. Over the years, Noshaq has developed a range of financing vehicles in line with the needs and trends of the market and its strategy. Each service offered by Noshaq (capital - loan - leasing) is always determined according to the demand and needs of the owner-investor. The objective is always to have a leverage effect on the company's development.​
www.noshaq.be / www.leansquare.be​
DIGITAL WALLONIA / WALLONIA EXPORT - INVESTMENT
​Wallonia is the Southern Region of Belgium. ​
As a digital strategy, platform and brand, "Digital Wallonia" sets the framework for all of the Walloon Government's actions in terms of digital transformation. Over 500 million euros have been committed over four years for its implementation, with a special focus on Growth of businesses in the digital sector ; Industrial deployment through Industry 4.0; Citizens' training; and Enhancement of public services. Wallonia Export-Investment, the Trade Promotion Agency of the Government of Wallonia is supporting "Digital Wallonia" in its international endeavors.
https://www.digitalwallonia.be/en ​- http://en.investinwallonia.be/
THE LYNK
THELYNK is an advisory company dedicated to connect the dots between Creative Industries & Startups with a focus on Music. ​THELYNK helps MusicTech Entrepreneurs & Startups with their International Go-to-Market Strategy as well as Corporates & Institutions in the Creative Sectors with their Open Innovation initiatives. ​Founded by Yvan Boudillet, Digital Entertainment Expert with 15+ years' experience, TheLynk is dedicated to drive positive change within the Creative Industries by enabling dialog, experimentation and collaboration between Corporates or Institutions, Creators and Creative Technologies Developers. ​It is all about facilitating open-innovation by bridging the gap between Creativity & Technology.​
https://thelynk.io/​​WELCOME ​