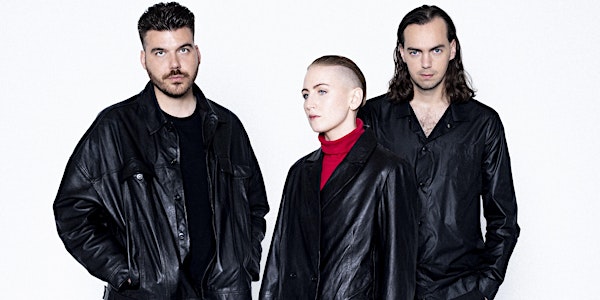 VÖK
Icelandic band Vök are coming to Antwerp! Meet the alt-pop trio: Margrét Rán (vocals), Einar Stef (guitar) and Bergur (drums)
When and where
Location
Kavka Oudaan 14 Oudaan 2000 Antwerpen Belgium
Refund Policy
Contact the organizer to request a refund.
About this event
2 hours 30 minutes

Mobile eTicket
Icelandic band Vök are ready for world domination!
The alt-pop trio – made up of Margrét Rán (vocals), Einar Stef (bass/guitar) and Bergur (drums) – make music that perfectly captures the contradictions of being alive. Brimming with soul-soothing electronic textures and seductive melodies, it veers from arm-raised euphoria to bittersweet melancholia, each song revealing narratives that often blur fact with fantasy to create intoxicating and transcendent pop music.
Founded in 2013 in order to compete in a battle of the bands contest in Iceland (which they won, naturally), Vök has spent the last nine years evolving into its current form. Their debut album, 2017's critically adored Figure, recorded with Brett Cox (Jack Garratt, Tusks) in London, saw the band's popularity explode as they gathered legions of dedicated fans throughout Europe. Their second album, 2019's In the Dark, only continued this trajectory. Working with producer James Earp (Lewis Capaldi, Maisie Peters, Will Young) on the record, it was an album fuelled by summer days in London and evenings of rosé wine, resulting in an album that felt powered by the unending possibilities of summertime.
Touring that record in 2019 took Vök all over Europe and the UK. Then, like almost every other human being on the planet, their world changed with the arrival of the pandemic. Being sequestered back in their native Iceland, however, turned out to be a blessing. Unlike most of the world, the country's lockdown measures weren't that extreme. With the option to be together on the cards, Margrét, Einar and Bergur got into the studio and began work on their upcoming self-titled album.
Written and recorded through 2020 and 2021, the album marks a departure from how Vök have traditionally created music. "We had previously always relied on help from other producers and we kind of felt like we were ready to take the next step ourselves," says Einar. "We decided to go back into the studio, work on our third album, and just write and produce it ourselves."
Both Einar and Margrét had previously produced music for themselves and other artists, while Margrét also spent the pandemic scoring a movie, so it felt like the right time for Vök to take that next step – as Einar says: "We knew what we wanted and we knew how to achieve that."
Nevertheless, the tendrils of the pandemic did leave their mark on Vök. "I have never been as lonely as I was during the pandemic," says Margrét. "When you work alone, you always rely on going out for lunch with people or meeting up with people. So it definitely got quite lonely. Being a musician and going on stage is also something you become addicted to. I was definitely missing that part of my life."
Like many of us, the pandemic also left Margrét feeling reflective about her life. This, ultimately, would provide the basis for much of the thematic body of their third album.
While she had previously written about her sexuality in her music, most notably on "Spend The Love", the songs on the band's latest record see Margrét revisiting her experiences growing up as a queer person in a small town. On "Running Wild", a song that merges the icy electronics and clipped beats with the twang of country music and the soft strums of acoustic guitar, drips with the confused and isolating feelings of being an outsider, Margrét's aching vocals pulling at an inner sense of resilience that.
"I was the only gay in the village," she jokes before getting serious. "It was so frustrating living there. I came out and I started dressing like a boy. I understand that people were confused by how I had changed but there weren't any other people like me there, so I really wanted to get out of there. When you're coming out, you really want to surround yourself with people like you. It was only a year after I came out that I moved to the city."
This journey out of a small-town to the explosive freedom of queer life in the city is chartered through the album's first narrative act: "Lose Control", a song that echoes the genre-bending beauty of Rhye and the disco twinges of Jessie Ware, is filled with lust and sexual exploration; the groove and electric bass of "Miss Confidence" perfectly incapsulates the nerves and excitement of stepping into a gay club for the first only to be met with queer people living their fantasies on the dancefloor; and the syncopated "Lost In The Weekend" explodes for the chorus, the production whirring like a vortex sucking you into a life of hedonistic queer liberation.
Taking stock of this journey is "Stadium", a shimmering sundowner that feels wiser than the head-spinning excitement found earlier on the record. It sits well with where Margrét says she is in her life now that she's graduated from the initial whirlwind of queer life in the city, although she's eager to point out that a lot of the antics she's singing about on the record have been heightened for dramatic effect.
"The songs are a little bit about my past and coming out of the closet but the storyline is going around fiction and reality," she says. "When you're creating something, you use a part of yourself. But then I love making it bigger and using your imagination so that it becomes something that isn't so rooted in reality. It's good to create distance."
While Magrét wryly says she set out to make this album "just a little bit gay", there are other thematic concerns. Like Vök's previous material, there's an undercurrent of sadness on the record, and songs like contemplative "No Coffee At The Funeral" and "Cold" broach topics of loss and grief with unflinching candour. "There's a line from 'Lost In The Weekend' that goes 'feeding on a tragedy' that always stuck with me," says Einar. "It's a really beautiful phrase and it resonated because often it's the job of the artist to feed off of their tragedies. You have to face these not very happy memories or feelings, and tap into that for the sake of making art. I felt like that line was quite reflective of that."
Indeed, while Vök's third album does brush up against feelings of euphoria and escapism, Margrét says that she's still figuring out how to write songs that beam with happiness. Nevertheless, it's a record that embodies who they are as a band. "There is definitely a sadness in it," she says. "There's loss, but then there's also love. That feels representative of where we are right now."
The nature of the pandemic has meant planning a tour for the album has been tricky. But Vök do have their eye on what they want to achieve next. "While it's such a privilege to be able to go abroad and play for people who know our music, I am always curious about America," says Margrét. "It's scary because it's so big, but there's always a nagging voice in my head saying, 'I'm going to come after you one day.'"
Such ambitions feel in line with where Vök find themselves with their third album –confident and honest; euphoric and liberated; queer and joyful; and revealing and emotional. It's the sound of a band who are hungry for more.