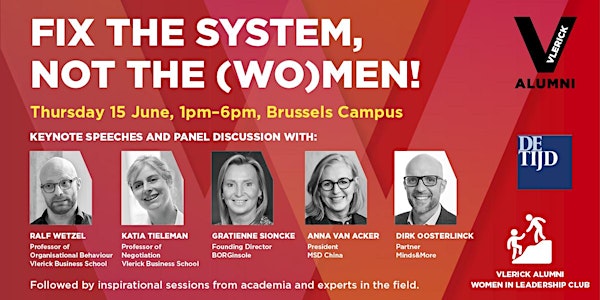 Vlerick Alumni Women in Leadership Club: Fix the system, not the (wo)men!
Be ready to: challenge the status quo, look in the mirror, play and learn! All Alumni are welcome at our event on inclusion and equity.
Date and time
Wednesday, November 15 · 1 - 6pm CET
Location
Vlerick Business School 21 Avenue du Boulevard #Bus 32 1210 Brussel Belgium
Refund Policy
Refunds up to 7 days before event
Eventbrite's fee is nonrefundable.
About this event
Please use the code VLERICKALUMNUS if you would like to join as an alumnus. If you are a paying member, however, please use the code MEMBER when registering.
Diversity, equity and inclusion have come a long way in the past years, but there's still work to be done. While discussions around individual actions are important, we also need to shift our focus towards the system.
How do we move our focus from fixing the individual to fixing the overarching system?
But before being able to change anything, we must first examine the current state of the system and identify the key dynamics that are keeping it in place. And it is only by disrupting the status quo - creating cracks in the system - that we can start to fix it…
There is a crack in everything, that's how the light gets in.
Leonard Cohen.
The goal? Creating working environments that are more inclusive where everyone, regardless of gender, race, sexual orientation, or other factors, can feel equally included.
Join the Vlerick Alumni Women in Leadership Club on campus or online for a thought-provoking afternoon on equity and inclusion. It will feature keynote speeches of experienced and successful professionals, followed by a taboo-breaking panel discussion and a choice of "out of the ordinary" interactive sessions.
Following keynote speeches and a lively panel discussion, you can choose to attend any of these tracks:
• Negotiate from different perspectives, with Professor Katia Tieleman (hybrid)
• Improv: Learn to speak your truth, with Professor Ralf Wetzel
• Intervision: Discuss a real-life challenge in a safe space, with Marika Gysel
• Systemic work: Dive into the feminine and masculine in organisations, with Lieve Van de Walle and Timmie de Pooter
• Inclusion and its impact on work relations, with Laurens Polfliet and Professor Smaranda Boros
Programme
1 PM : Welcome
1.30 PM : Introduction by Marion Debruyne and Ralf Wetzel
1.50 PM : Keynote speeches by Anna Van Acker (President of MSD China & Senior Vice President of MSD) & Dirk Oosterlinck (Partner at Minds&More)
2.30 PM : Panel discussion between Ralf Wetzel (Professor at Vlerick), Katia Tieleman (Professor at Vlerick), Gratienne Sioncke (Founding Director BORGinsole), Anna Van Acker (President of MSD China) and Dirk Oosterlinck (Partner at Minds&More), moderated by Charlotte De Metsenaere
3.15 PM : Interactive sessions
5 PM : Sharing experiences and reception
Speakers
Dean of Vlerick Business School. Professor in Marketing Strategy & Innovation
Associate Professor of Organisation and Applied Arts at Vlerick Business School
Professor of Management Practice at Vlerick Business School
Associate Professor of Intercultural Management and Organisational Behaviour at Vlerick Business School
Partner Minds&More
Seasoned General Manager and change leader, convinced by the benefits of diversity, collaboration and partnerships in organizations. Board member Women on Board and Wit-Gele Kruis Oost-Vlaanderen
President of MSD in China and Senior Vice President of MSD
Founding Director BORGinsole
Steerco Member of the Vlerick Alumni Women in Leadership Club
Founder ZEGGEDIS
Communication Coach, Improviser, Public Speaker. Founder of Zeggedis, combining improvisation theater with communication expertise.
Intuitive Coaching Connector at White Waves
With a background in sales and marketing, Marika helps people and organisations move forward through coaching.
Team & Leadership Coach at White Waves
Laurens is an experienced coach and mentor who helps teams to collaborate better and embrace leadership.
Managing Partner at Sugarloaf
With 25 years' management experience, Lieve helps people, teams and organisations maximise their potential.
Founder at True Calling Consultancy
Timmie develops SMEs and family business leaders so that they can have a positive and lasting impact.
About the organizer
As well as offering a diverse range of top-ranking, triple-accredited management, degree and customised programmes, Vlerick Business School represents a vibrant and dynamic alumni community. A community that keeps the Vlerick spirit alive long after you graduate from your Vlerick programme and which spreads far beyond our campuses in the heart of Europe.

Vlerick Alumni are among the most active in the world and the long list of alumni events around the world bring both former students and other interested parties together from across disciplines, industries and borders.

Are you a Vlerick alumnus seeking to rekindle old ties or forge new ones? Or do you have an active interest in the School? Take a look at our upcoming alumni events.