About this event
Vernissage 22 oktober 18 - 22 u
A collection of international artists transforms BorGerHub 'Into eternity'. This heart driven project connects different art worlds, immersing the visitor in the visions of the artists.
"The meeting of two eternities, the past and the future … is precisely the present moment" - Henry David Thoreau
Open: 18h – 22h
Performance Christine Clinckx: 19h – 19h30
With creating art, an artist gives something to the world, a thing of beauty, a thing of meaning. We take this element of giving a step further. With the help of art lovers and buyers we give a part of our sales to these five good causes: Mila4Africa, Letsplayground, Nikela, Zelfmoordpreventie and Vzw Kiddo's.
Participating artists: Rachel Agnew, Boy & Erik Stappaerts, Earnest, Christine Clinckx, Sebastien Le Clef, Wendy Krochmal, Flowris, Elona Saidoul, Sebastiaan Vandoninck, Cindy Wright, Adrian Iurco, John Rausenberger, Marius Ritiu, Marix, Haider Jabbar, Hanneke Vande Kerkhof, Faryda Moumouh, Kris Henkens, Nuria Donaire Aliet, Ulysses Ost, Frederic Geurts
Performance 19 - 19.30 u:
7 DAYS (playing music backwards)
Sound performance by Christine Clinckx (guitar/ special effects), Michel Verkempinck (keyboards) and Arthur Pas (guitar).
Christine Clinckx' video '7 Days' is screened and within this projection Clinckx performs together with musician Verkempinck. Playing their music backwards, they reverse time and keep things from happening.
The seven masks in the video are incarnations of days, gods and human emotions. They have sculptural qualities but shouldn't be considered sculpture.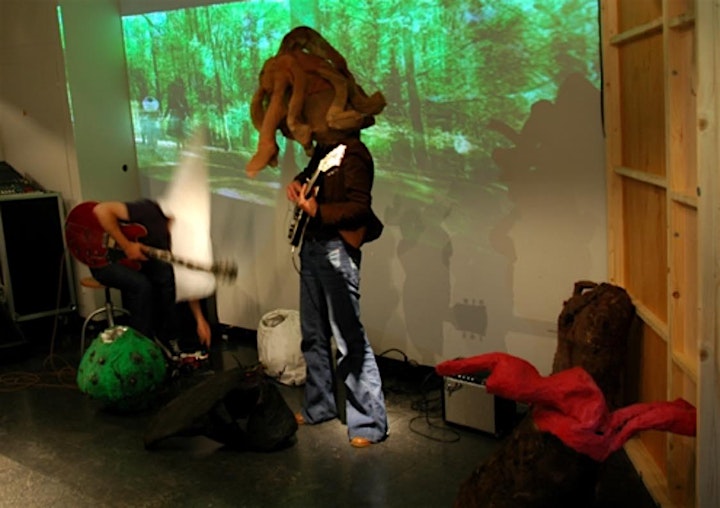 Kunstenaars: Rachel Agnew, Boy & Erik Stappaerts, Earnest, Christine Clinckx, Sebastien Le Clef, Wendy Krochmal, Flowris, Elona Saidoul, Sebastiaan Vandoninck, Cindy Wright, Adrian Iurco, John Rausenberger, Marius Ritiu, Marix, Haider Jabbar, Hanneke Vande Kerkhof, Faryda Moumouh, Kris Henkens, Nuria Donaire Aliet, Ulysses Ost, Frederic Geurts,
Muziek op performance evening door Taz Von Stone, aimée
Goede doelen: Zelfdmoordpreventie, Let'splayground, Nikela, MilaforAfrica en Kiddo's