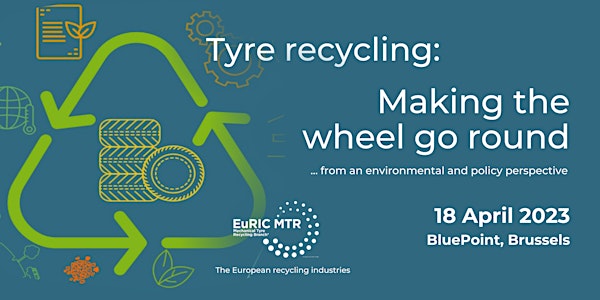 Tyre recycling: making the wheel go round
Making the wheel go round .... From an environmental and policy perspective.
Date and time
Tuesday, April 18 · 9am - 5:30pm CEST
Location
BluePoint Brussels - meetings, events & office space 80 Boulevard Auguste Reyers 1030 Brussels Belgium
About this event
8 hours 30 minutes

Mobile eTicket
Waste tyres have faded into oblivion since the ban on EU landfill entered into force in 2006. After this milestone, currently 95% of the end-of-life tyres (ELT) in EU are collected and treated thanks to the development of good management systems for waste tyres, mainly dominated by EPR schemes, and investments in recycling. However, during the last two decades, policies focusing on enhancing the circularity of raw materials from ELT (i.e., rubber, steel, textiles and carbon black) have been scarce.
There is a lot of untapped potential for circularity as per one tyre that gets incinerated with energy recovery, there is one tyre that gets mechanically recycled. However, tyre recycling heads into 2023, with serious challenges in which the rubber end-market applications face different bans:
A restriction on intentional use of synthetic polymer microparticles affecting 30% of the tyre recycling market
A restriction on the content of PAHs and other chemicals affecting 70% of the tyre recycling market
With 100% of the recycling markets for rubber under siege, there is a lot of uncertainty on the horizon for tyre recyclers, which hampers innovation and investment. Therefore, a thorough discussion is needed to preserve within the tyre value chain, the targets set by the European Green Deal (incl. New Circular Economy Action Plan) and the United Nations Sustainable Development Goals. This is especially important as natural rubber is a critical raw material in the EU, being mostly imported from South-East Asia for natural rubber and Russia for synthetic rubber.
Under this scenario, policy actions are required on all the different steps of the tyre value chain -from tyre design, collection and sorting, recycling, to uptake of recycled materials. A regulatory framework is needed to promote circularity of the materials contained in tyres and to develop sustainable applications. Since tyre to tyre recycling is difficult, an out-of-the-box approach is required to put in good use the technical properties of rubber and other raw materials contained in tyres. Such an approach, will foster the environmental benefits of recycling and minimize EU reliance on natural resources.
As two heads are better than one, we invite you to join the 8th edition of our Recyclers' Talks series, this time in person, to discuss how to increase circularity in the tyre sector and how different actions across the value chain can contribute to achieving this objective.