Evenementdetails
Restitutiebeleid
Neem contact op met de organisator om een restitutie aan te vragen.
Eventbrite-kosten zijn niet restitueerbaar.
Beschrijving van het evenement
In this 6-part yoga series for body positivity, we explore and celebrate our body in all its diversity.
Over dit evenement
Trauma-sensitive yoga for body positivity
We are surrounded by images and messages about what the "ideal" female body should look like. When we are younger, we are generally not actively stimulated or encouraged to feel at home in our own body or even to love our body! Creating a neutral or positive body image can therefore be quite a challenge for some.
Unrealistic expectations and ideals, whether they come from the outside or from within ourselves, make it challenging to have a healthy, positive relationship with the body. However, feelings, thoughts, and behaviours related to how you feel about your body can have a major impact on your mental and social well-being and how you see and treat yourself. Insecurity, low self-esteem, anxiety, and depression can result from a complex relationship with your body.
In this 6-part yoga series for body positivity, we explore and celebrate our body in all its diversity. Her strength, ability, feeling and intuition are all topics that will be discussed. Throughout the series, themes such as self-confidence and self-care will also be central.
For some women, it will be about finding just a little more ease and comfort in her body, while for others it may be about accepting and respecting her body. Whatever it is, this series will guide you on a journey in the body, with an emphasis on how we feel and relate to the body. Whether your intention is to be less negative, more neutral, or actually more positive about your body, everyone is welcome. All women and all bodies are welcome, regardless of shape, size, skill, age, yoga experience, you name it!
Trauma sensitive yoga is, moreover, also for everyone: whether you have ever experienced a major life event, large or small, or not, trauma-sensitive yoga can help you to befriend your body. Based on knowledge of how the stress system affects your bodily functions and how your body can once again be a place of safety, trauma-sensitive yoga is recommended for anyone who wants to feel more at home in her body. The yoga style that will be offered is a combination of slow flow, Hatha and restorative yoga forms. Above all, we will try to get moving together and have fun with our body!
The sessions follow a fixed structure that consists of meditation, yoga forms, relaxation and space for interaction and sharing experiences or thoughts. Each session has a specific theme, which will be introduced briefly at the start of the session. Sometimes we start with a brief interactive moment. Other times, we immediately start with a meditation that invites you to ground and slow down. You are very welcome to share your observations from the group's meditation, but you certainly don't have to. After a short moment of discussion, there is a calm and rhythmic warm-up, followed by various yoga forms (standing, sitting, lying down). We conclude with a relaxation exercise, such as a body scan, followed by the opportunity to share your experiences with the group. At the end of a session, 2 or 3 home exercises will be given as a suggestion to further integrate the discussed themes into your life. If you don't have the time or don't feel like doing this, then that's completely OK.
Each group will consist of maximum 10 women so that we can give everyone personal attention.
Practical information
This series will take place in May and June. Another series is planned for July and August: trauma-sensitive yoga for befriending the body. You can follow one or both series. Entries are now only open for the body positivity series.
Who is this training for? This yoga workout is only for women! Transgender women and queer women are, of course, very welcome.
How do I register? You can register here on Eventbrite.
For trauma-sensitive yoga for body positivity, there are 2 series of 6 sessions each – of which one is in Dutch and one is in English:
Thursday 13 + 20 + 27 May and 3 + 10 + 17 June
6:00pm - 7:30pm
The cost is 150 € for 6 sessions.
How do you follow this yoga training? You can easily follow this series online. You only need a screen (laptop, tablet), internet connection and a yoga mat! Roll out your yoga mat in your living room, bedroom or any other comfortable place, grab your laptop, and you're ready to go! We are going to make it as easy as possible for you to join us online. 😊 You can choose to have your camera and microphone on during the session or choose not to be visible and audible. The choice is entirely yours. It is possible that you would like to actively participate in one session, while the next session it may feel safer to be less visible. Both are completely OK.
There will be a Facebook group where you can stay in touch with the other women throughout the series - you can share inspiration, experiences and exercises. Inspirational quotes, songs and informational videos will also be shared here.
Questions or doubts? You can contact us by email at esther@traumacentrum.be or call Esther on 0456 30 29 67. She will help you find out if this series suits you and what would help you take the step!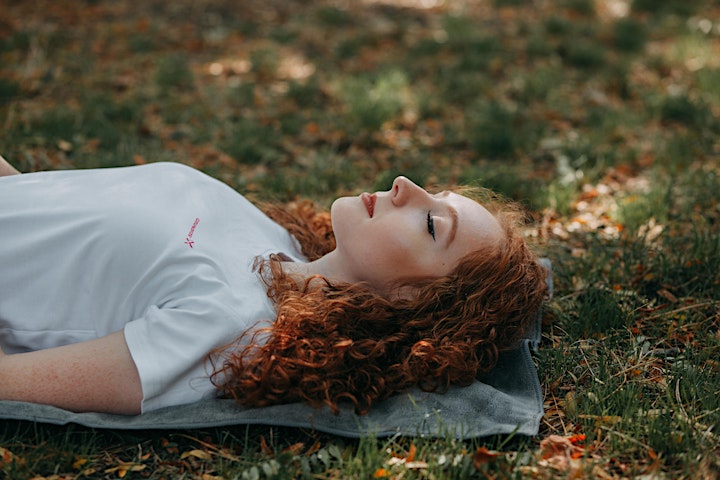 Datum en tijd
Locatie
Restitutiebeleid
Neem contact op met de organisator om een restitutie aan te vragen.
Eventbrite-kosten zijn niet restitueerbaar.