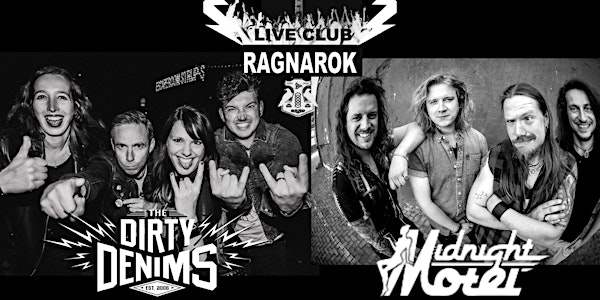 THE DIRTY DENIMS + MIDNIGHT MOTEL -HARD ROCK@RAGNAROK LIVE CLUB,B-3960 BREE
THE DIRTY DENIMS + MIDNIGHT MOTEL -HARD ROCK@RAGNAROK LIVE CLUB,B-3960 BREE
Datum en tijd
Begint op vr. 14 apr. 2023 19:00 CEST
Locatie
Ragnarok Live Club 1 Ziepstraat 3960 Bree Belgium
Beleid voor refunds
Neem contact op met de organisator om een restitutie aan te vragen.
Eventbrite-kosten zijn niet restitueerbaar.
Over dit evenement
4 uren

eTicket voor mobiel
THE DIRTY DENIMS + MIDNIGHT MOTEL -HARD ROCK@RAGNAROK LIVE CLUB,B-3960 BREE
THE DIRTY DENIMS
The Dirty Denims play Happy Hardrock: hardrock that makes you feel good in a heartbeat. Combined with rock 'n roll, powerpop and a slice of punkrock it sounds like AC/DC, KISS, Joan Jett, Ramones and The Donnas. When playing live these rockchicks and guys are at their best; an energetic show of a band that exudes fun, likes audience participation and doesn't taking themselves too seriously.
The Dutch festival Lowlands defined their music as very tight punk- and hardrock, with riffs inspired by Ramones and AC/DC. Frontwoman Mirjam delivers the most recognizable element: a voice like Joan Jett and Debbie Harry. With their catchy songs and energy they will they will make you throw your fists in the air and scream "YEAH"!
The Dirty Denims played on large festivals like Lowlands, Rockin' Park, Zwarte Cross and Bospop and supported Slash, Whitesnake, Golden Earring, Extreme, Cheap Trick, Steel Panther and Thundermother. Their song "24-7-365" got them national airplay on the biggest radiostation of the country. The song also was featured in 2 international Comedy Central campaigns. The song "Back With A Bang!" is featured on the compilation-cd that comes with Classic Rock magazine UK, November 2017 (circulation 70,000 editions worldwide). In 2022 the band played a show for the German WDR Rockpalast.
MIDNIGHT MOTEL
Midnight Motel is a High Energy Rock 'n Roll band from the Netherlands which was formed back in 2009. With 2 studio albums to their name the band has been rocking for more than a
decade. On July 1, 2022 the new single & music video "Narcotic Blues" was released and was soon picked up by "Never Mind The Hype" and bombed as the video of the week. Later the
song was also added to their prestigious "Bruut Nationaal Product" playlist. Next to "The Reason" and "Adrenaline Junkies" back in 2019 and 2020.
The band has played hundreds of shows in The Netherlands, Germany and Poland. They've played on festivals, showcases, in clubs and shared the stage with great bands from all over
the world.
Midnight Motel plays rock in its purest form as it was meant, in your face, loud and melodic. During their highly energetic and dynamic live shows the crowd will be served with lots of filthiness and scream-a-longs. There's plenty of room for stagediving and crowdsurfing too. According to well-known Dutch music blog "3voor12", Midnight Motel is "sex on guitars".
Doors: 19:00 h