Dit evenement is afgelopen.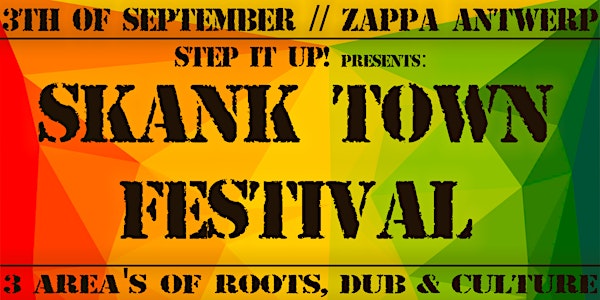 Skank Town Festival
Get Your Ticket in time & seeya inna di dance!
Waar en wanneer
Locatie
Kavka Zappa 6 August Leyweg 2020 Antwerpen Belgium
Kaart en routebeschrijving
Beleid voor refunds
Neem contact op met de organisator om een restitutie aan te vragen.
Eventbrite-kosten zijn niet restitueerbaar.
Over dit evenement
After a lot of planning, a ton of arrangements, almost blood sweat & tears,
The Splintah Projects and Step It Up! Crew finally proudly presents:
The very first edition of Skank Town Festival!
Whats Skank Town all about?
Well, we are both a eco, environmental and most of all, Family friendly, day and night during cultural festival filled with only the best Roots, Dub & Culture right inna A-Town!
We will provide a dedicated place for the kids, a Food Corner, Market Area, Plenty of space to sit 'n chill and a Soundsystem blasting in every free space available!
* 3 STAGES WITH IN- & OUTERNATIONAL ACTS!
* KIDS CORNER
* IRIE FOODS PROVIDED BY "DE VOLXKEUKEN"
* JAMAICAN TIKI-BAR
* I-TOPIA RECORDS & ECO WEAR
* . . .
COME EARLY LEAVE LATE!
LETS GO GREEN!
We also as a festival recognize our responsibilities for our Planet and of course try to reduce our Carbon Footprint as much as possible.
Thats why we will only work with Ecological Sustainable Drinking Cups, work with only Compostable materials in the Food Area and thats also why we will provide an extra bicycle storage with space for no less than 70 extra bicycles, on top of the existing bicycle shed.
So, if we do our best to keep our festival as Green as possible, will you do to?
Think about our beloved Nature and come by Bus, Bike or Train!
More information on the public transport will be provided on the event-page in time!
IMPORTANT!!
*BRING YOUR ID'S ALONG
-12 year's old = free entrance!
-18 Years old = NO ALCOHOL!
*IN=IN . Think about the Neighborhood and park your Car or Bike and go directly to the entrance of the festival, there will be plenty of space inside to sit and chill.
*Please leave your Cats, Dogs, Birds, or even Freddy the Mouse at home, this way we can make it an enjoyable day for Each 'n Everyone!