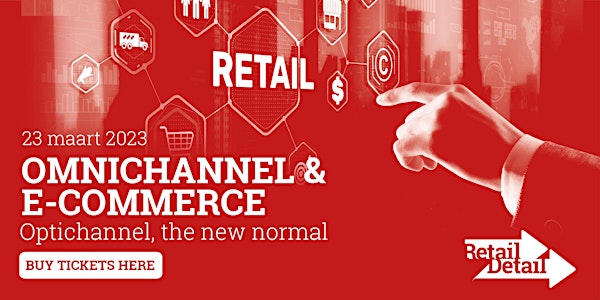 Omnichannel & E-Commerce Congress 2023
Optichannel, the new normal
Datum en tijd
do. 23 mrt. 2023 10:00 - 16:00 CET
Locatie
Shopping Stadsfeestzaal 78 Meir 2000 Antwerpen Belgium
Over dit evenement
6 uren

eTicket voor mobiel
Omnichannel & E-commerce Congress 2023
Optichannel, the new normal
After the e-commerce boost during the pandemic years, retailers are looking for a new balance between online and offline. What does the new normal in e-commerce look like? What role for marketplaces? How is the function of the physical store changing in an omnichannel context?
With
Tom De Prater (Collect & Go)
Erik Cuypers (Maxeda DIY Group)
Frederik De Vetter (Media Markt)
Wim Mathues (Decathlon)
Find information on our website!
Price
Regular ticket €445 (excl. servicekosten & BTW)
Language
Presentations and slides are in Dutch, unless stated otherwise on our website.
Program
10u00: Welcome
10u30: Keynotes part 1
12u00: Lunch Break
13u00: Keynotes part 2
14u30: Break
15u00: Keynotes part 3
17u00: Networking, drinks and bites
Powered By
Thanks to our partners