Dit evenement is afgelopen.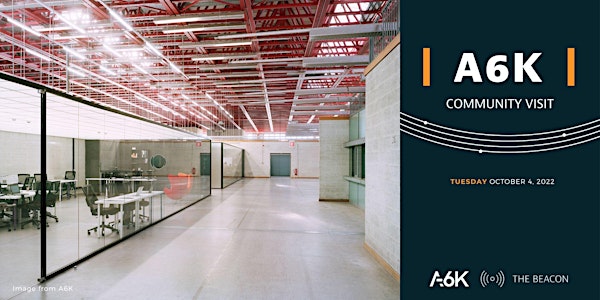 Community visit to Charleroi - A6K & Industry
Visit to the tech hub A6K & dialogue with local industry stakeholders on 5G and smart logistics
Waar en wanneer
Locatie
A6K | Advanced Engineering Center Square des Martyrs 6000 Charleroi Belgium
Kaart en routebeschrijving
Over dit evenement
After successful visits to the ports of Liège and Zeebrugge, The Beacon Community will be on the road again in October. This time, we'll visit the advanced technology center A6K in Charleroi. Inspired by – among others – The Beacon, a great local tech hub has been created, right next to the train station of Charleroi.
The purpose of this visit is not only to have a look at A6K and meet their residents, but foremost to engage in a discussion with some of their project and stakeholder groups. The industrial actors from the region, that are also part of the A6K ecosystem, will be present as well.
PROGRAM
7.54 – Departure train Antwerpen-Centraal
9.39 – Arrival in Charleroi-Sud
10.00 – Welcome, guided tour and introduction to A6K – Abd-Samad Habbachi
10.45 – Special PSC A6K
The Beacon Community Members will join this regular meeting of tech and industrial companies, to discuss innovation in terms of mobility and logistics on land and waterways. All companies will be able to present themselves, their technology and their challenges.
Alstom & Contribute – Pierre Meunier 10'
AGC & Wave by AGC – Bernard Monville 10'
I-care – Thomas Di Pietro10'
AISIN – Frédéric Burguet 10'
AECC – Valentine d'Hoffschimdt10'
CETIC – Damien Hubaux 10'
CENAERO – Philippe Geuzaine10'
Sirris – Laurent Voets 10'
12.20 – A6K'PiKNiK – Lunch (all together > Registration)
13.30 – Introduction to The Beacon – Michaël Geelhand de Merxem
13.50 – ADLC (from The Beacon) is pitching on 5G & Mobility (Drone)
14.15 – A6K 5G-KLUB – Leading by the Klub members
The Beacon Community Members will join this regular meeting of tech and industrial companies, to discuss ongoing projects, challenges and opportunities with regards to 5G.
15.15 – Ending with informal drink
15.52 – Departure train Charleroi-Sud
17.35 – Arrival in Antwerpen-Centraal
INFORMATION
This visit is open to all The Beacon Community Members, and is free of charge. The Beacon will reserve train tickets for all participants that have confirmed their registration before 25 September.